Java Hiring Days Bulgaria
When
May 20-21, 2022
Where
Bulgaria, online - Online
Become a part of a team that creates projects for the global IT industry:
Fill in the registration form
Pass an interview with a recruiter – 30 min
Pass an interview with a technical expert – 60 min
Receive feedback on the day of the technical interview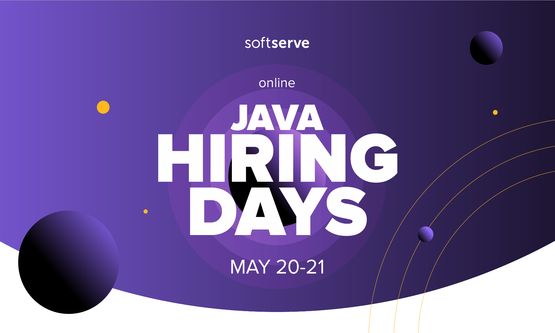 What we have for you:
work with a team of super-talented engineers across geographies along with Product Managers, Designers, and Architects to build enterprise-grade services with a razor-sharp focus on improving reliability, security, and operational efficiency
be empowered to drive innovation by coming up with new and exciting ideas to creatively solve issues, as well as actively look for opportunities to improve the design, interface, and architecture of products on the cloud
wide technology stack including (but not limited to) Java, AWS (RDS, Dynamo DB, SQS, S3, SNS, Microservices), Spring, DynamoDB, Kotlin, TDD
a bunch of automation and tools to make life easier for developers.
You will also:
Create experiences seen by over 10 million people a month
Develop fast, scalable, highly available, and reliable apps
Work in an environment that is bureaucracy free
Work in a company with 300+ people on the unit and 50 + projects
Teams by directions:
Product security and administration
Customer support service
Tool for team management
Data migration to the Cloud
You can join one of these teams or maybe try a few to find the best project for you.
About the project:
Our client is a mature company with vast technical expertise and an innovative approach, widely using modern technologies existing on the market (AWS, Big Data, Analytics).
Additional benefits:
1. Access to webinar
You will get access to an online webinar from Java experts at SoftServe.
2. Certification
You can win AWS certification* or one of 5 sets of SoftServe branded merchandise.
*Upon winning you can choose a certification up to $400 depending on your personal needs.
3. Entry bonus
Accept our offer right after the interview and get an entry bonus.
About SoftServe
SoftServe is a digital authority that advises and provides at the cutting-edge of technology. We reveal, transform, accelerate, and optimize the way enterprises and software companies do business. With expertise across healthcare, retail, energy, financial services, and more, we implement end-to-end solutions to deliver the innovation, quality, and speed that our clients' users expect.
SoftServe delivers open innovation, from generating compelling new ideas, to developing and implementing transformational products and services. Our work and client experience is built on a foundation of empathetic, human-focused experience design that ensures continuity from concept to release.
We empower enterprises and software companies to (re)identify differentiation, accelerate solution development, and vigorously compete in today's digital economy. No matter where you are in your journey.
Visit our website, blog, LinkedIn, Facebook, and Twitter pages.