SoftServe Achieves AWS Energy Competency Status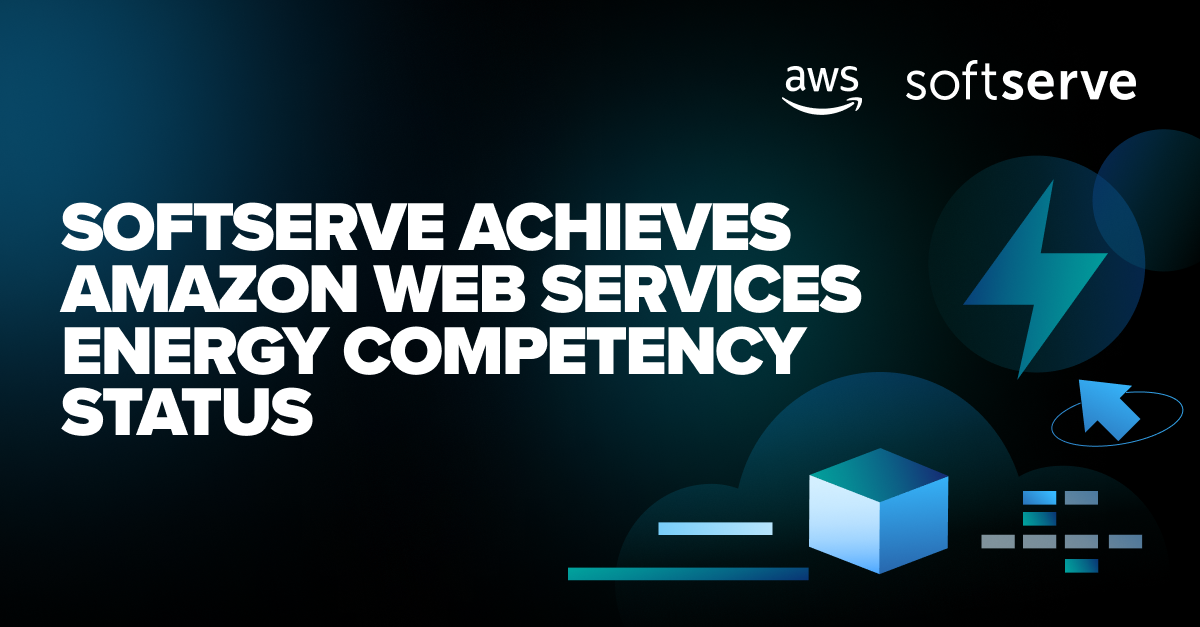 Designation recognizes SoftServe's deep expertise and technical proficiency leveraging AWS cloud technology within the energy industry
AUSTIN, Texas—Nov. 30, 2021—SoftServe, a leading digital authority and consulting company and an Amazon Web Services, Inc. (AWS) Premier Consulting Partner has achieved the AWS Energy Competency status. This designation recognizes that SoftServe has demonstrated deep expertise helping customers leverage AWS cloud technology to transform complex systems and accelerate the transition to a sustainable energy future.
Achieving the AWS Energy Competency differentiates SoftServe as an AWS Partner with deep expertise and technical proficiency within this unique industry, including proven customer success developing solutions across the value chain, from production operations and optimization to commodities trading, new energy solutions, and more. To receive the designation, AWS Partners undergo a rigorous technical validation process, including a customer reference audit. The AWS Energy Competency provides energy customers the ability to more easily select skilled Partners to help accelerate their digital transformations with confidence.
"To meet the rising demand for innovation, energy companies around the world are increasingly using cloud computing, artificial intelligence, machine learning, and the Internet of Things," said Todd Lenox, Vice President Alliances and Partnerships at SoftServe. "The AWS Energy Competency status reiterates SoftServe as a best-in-class consulting and technology partner that supports energy companies in keeping their IT capabilities in sync with evolving business operating models."
"Achieving the AWS Energy Competency is an important milestone that allows us to strengthen our status as a reliable AWS Premier Consulting Partner in the AWS Partner Network," said Keith Rozmus, Executive Vice President of Client Success at SoftServe. "Our team has a proven track record of delivering AWS solutions for leading energy customers that include both SMBs and Fortune Global 500 companies. We are committed to building on our AWS expertise to help our customers transform every link of the energy ecosystem - from fuel exploration and extraction to power generation, transmission, and distribution."
AWS is enabling scalable, flexible, and cost-effective solutions from startups to global enterprises. To support the seamless integration and deployment of these solutions, AWS established the AWS Competency Program to help customers identify AWS Partners with deep industry experience and expertise.
SoftServe partners with leading energy companies around the world to deliver effective strategies and cutting-edge AWS cloud integrations. The company helps energy enterprises utilize machine learning, advanced analytics, and intelligent automation to enhance information management and optimize upstream, midstream, and downstream operations.
Leveraging the agility and breadth of services that AWS provides, SoftServe builds solutions that help energy companies avoid unwanted downtime, automate manual processes, and predict risks, improving employee efficiency and ensuring the optimal cost of operations. The projects the company works on in the energy sector range from AWS cloud migrations to machine learning (ML) modeling and building Internet of Things (IoT) data lakes.
In one such project, SoftServe collaborated with a leading US energy company focused on the acquisition, exploration, and development of oil and natural gas to build a solution to predict anomalies and failures in the client's artificial lift compressors' operation based on telemetry data analysis and ML modeling. Given that the compressors' uptime directly affects the company's revenue, the solution helps operators manage equipment reliability by predicting upfront possible equipment misfunctioning and failures, allowing time for preventive actions and ultimately lowering the cost of operations and maintenance.
SoftServe has been an AWS Partner since 2014 and is currently an AWS Premier Consulting Partner with AWS Competencies for Energy, Data & Analytics, DevOps, Healthcare, Financial Services, Retail, SaaS, Machine Learning, and Migration. Besides energy, the company's AWS solution areas span healthcare, financial services, retail, and high-tech independent software vendor (ISV) industries. For more information, please visit SoftServe's AWS energy page.
About SoftServe
SoftServe is a digital authority that advises and provides at the cutting-edge of technology. We reveal, transform, accelerate, and optimize the way enterprises and software companies do business. With expertise across healthcare, retail, energy, financial services, and more, we implement end-to-end solutions to deliver the innovation, quality, and speed that our clients' users expect.
SoftServe delivers open innovation, from generating compelling new ideas, to developing and implementing transformational products and services. Our work and client experience is built on a foundation of empathetic, human-focused experience design that ensures continuity from concept to release.
We empower enterprises and software companies to (re)identify differentiation, accelerate solution development, and vigorously compete in today's digital economy. No matter where you are in your journey.
Visit our website, blog, LinkedIn, Facebook, and Twitter pages.
SoftServe Media Contact
Andrew Kavka
Analyst and Public Relations Lead
akavk@softserveinc.com