Big Data Nights: Cloud Data Engineering Toolstack with GCP by example
When
Nov 28, 2023
Where
SoftServe HQ, Charles de Gaulle Plaza - Bucharest, Romania
Location
SoftServe HQ, Charles de Gaulle Plaza, 12th floor - Bucharest, Romania
Time
28 November at 6:30 PM
Why Join
Andrei and the team will provide a quick run-through of the regular activities of a Data Engineer, position data engineering against the other data roles available and provide best practices coming both from Google and our Center of Excellence.
We will deep dive into the most common GCP tools and technologies used in the projects and we will illustrate these with a demo. A relevant one, not New York taxi rides, movies or weather demos.
The team will also cover the trainings available at SoftServe, including retraining and paths to getting into data engineering in no time.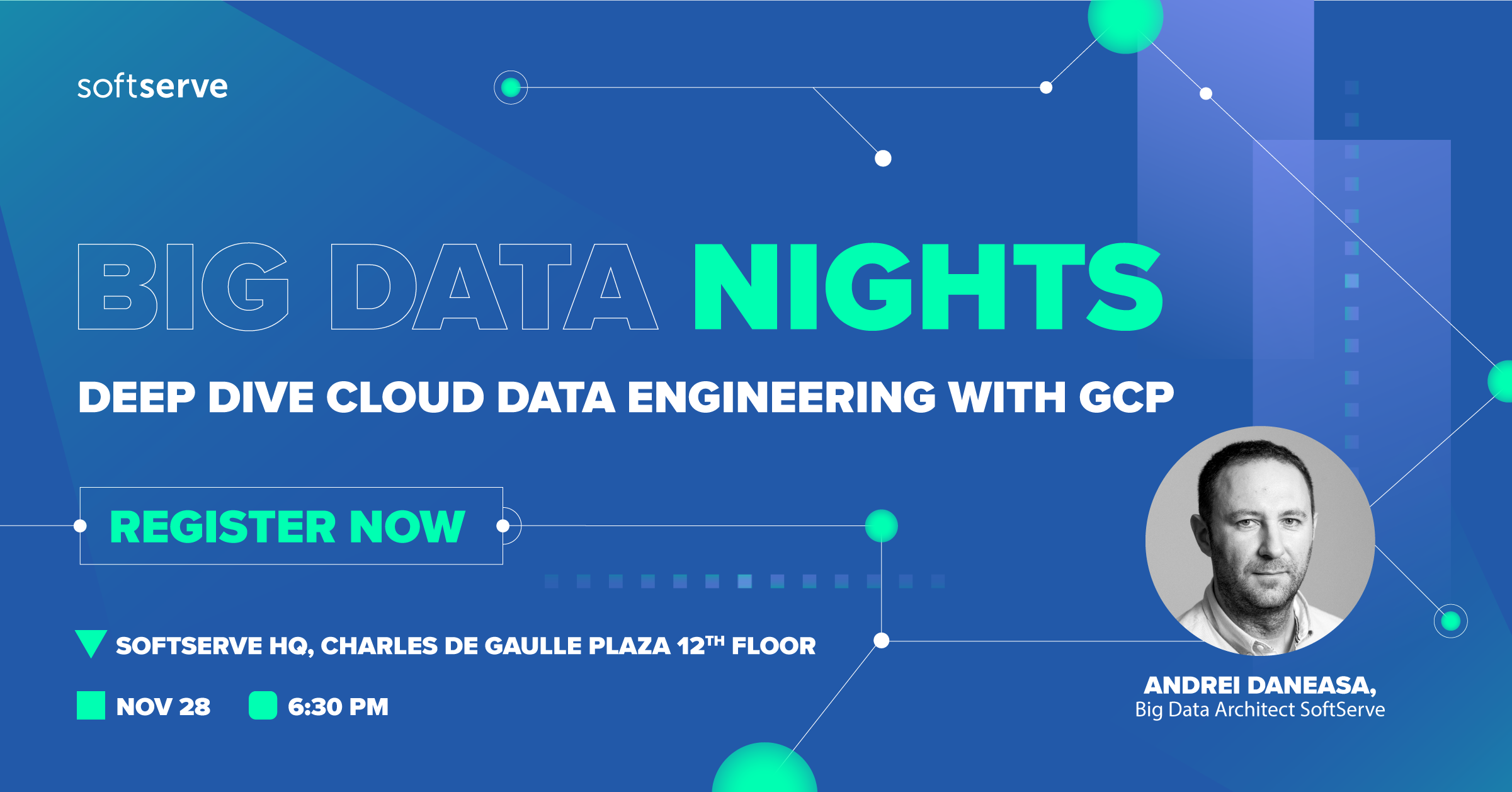 About the Speaker 🎤
Andrei Dăneasă, GCP Big Data Architect at SoftServe
Spending nearly 20 years in the world of data, Andrei Dăneasă is one of the most experienced professionals in the industry. Throughout his career, he successfully delivered a wide range of projects: from database development or migrations to data warehousing, from delivering big data workshops to enterprise data management, and from on-premise data lakes to cloud data platforms. He dedicated the last 7 years to cloud. Currently GCP BigData architect in our GCP Center of Excellence, he is knowledgeable in many other platforms, including AWS, Microsoft Azure, or Snowflake. Andrei is a continuous learner, over-certified, who enjoys sharing knowledge and forming young talent.
About SoftServe
SoftServe is a premier IT consulting and digital services provider. We expand the horizon of new technologies to solve today's complex business challenges and achieve meaningful outcomes for our clients. Our boundless curiosity drives us to explore and reimagine the art of the possible. Clients confidently rely on SoftServe to architect and execute mature and innovative capabilities, such as digital engineering, data and analytics, cloud, and AI/ML.
Our global reputation is gained from more than 30 years of experience delivering superior digital solutions at exceptional speed by top-tier engineering talent to enterprise industries, including high tech, financial services, healthcare, life sciences, retail, energy, and manufacturing. Visit our website, website, blog, LinkedIn, Facebook, and X (Twitter) pages for more information.
Present in Romania since 2022, SoftServe plans to grow the local operations to 800 people in the next years. The Romanian delivery center bring expertise in a variety of technologies, from DevOps and Big Data to IoT and Robotics, serving various industries: finance, retail, travel, production.