Join SoftServe at Talent Land
When
Apr 10-14, 2023
Where
Expo Guadalajara - Guadalajara, Mexico
SoftServe is proud to be a Gold Sponsor of Talent Land, taking place in-person at the Expo Guadalajara.
Talent Land brings together innovators for training, inspiration, growth, collaboration, and networking at a conference focused on those passionate about technology and talent.
SoftServe is a global company who is passionate about technology and digital solutions. We ENABLE TALENTED PEOPLE TO CHANGE THE WORLD, come visit us in Talent Land in Developer Land area right next to the main stage, you won't miss our amazing SoftServe stand. Learn more about the opportunities we have in México and turn your passion into your dream job.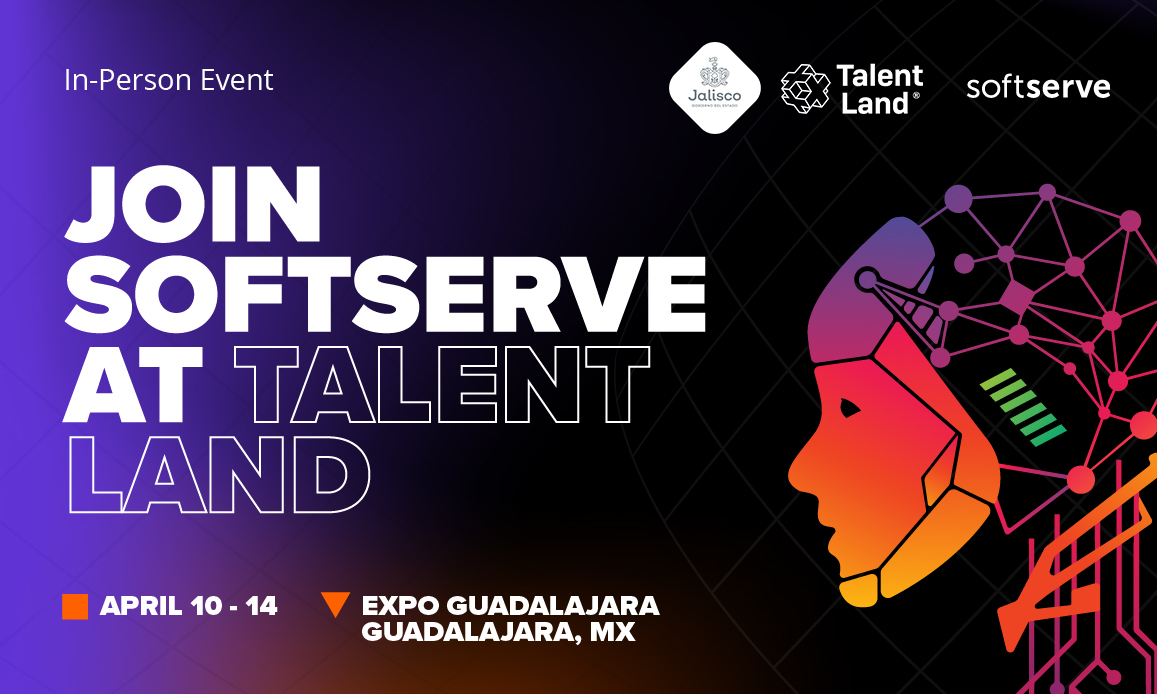 Meet our SoftServe team at Talent Land and learn how to be part of the company who work´s on the most exciting and cutting-edge projects in the technology industry. Come to our booth and join our tech talks from our talented Softservians.
Come and find out what the future holds with us.
Where: Our booth is located at Developer Land next to Main Stage
Explore our agenda:

Monday, April 10th
MASTERCLASS
Time: 4:00 PM
Speaker: SAUL ALEJANDRO OLGUÍN, Junior Educator
Description: Detailed explanation on SoftServe's Hackathon "H20 for All". Develop a technological solution that contributes to a more equitable distribution of this resource, also generating alternatives to take advantage of wastewater and rainwater harvesting.
AI: BENEFITS FOR THE WORLD
Time: 5:00 PM
Speaker: LETICIA TORRES, Abiliton Senior Software Engineer
Description: Artificial intelligence is revolutionizing the way we relate to technology, implementing in machines many of the tasks we do every day. But what benefits does it bring us?"
Tuesday, April 11th
FROM DATA TO MELODIES: MACHINE LEARNING IN MUSIC
Time: 11:00 AM
Speaker: CESAR MARTINEZ, DevOps & Cloud Associate Practice Lead Mexico
Description: Discover the intersection of machine learning and melodies creation. Learn how data can generate original compositions, challenges, and promising approaches using generative adversarial networks. Explore the future possibilities for this emerging field.
GETTING STARTED WITH GRPC IN .NET
Time: 5:00 PM
Speaker: BIANCA SALÓMON, Abiliton Intermediate Software Engineer
Description: We usually interact with Restful APIs, which has become the most popular way to create them, but did you know that there are other options for API development? Meet gRPC, a modern open-source high-performance Remote Procedure Call (RPC) framework that can run in any environment. Let's have a glance at gRPC inside .Net world."
Wednesday, April 12th
CHAT GPT AND GENERATIVE MODELS SHOWED US THE WAY
Time: 11:00 AM
Speaker: ADOLFO CABRERA, Middle Cloud DevOps Engineer
Description: We will address an enriching talk of ChatGPT along with other technologies such as DALLE and Whisper and discuss in the field of machine learning how these changes came to generate an unexpected impact on our society and the production process.
NEXT-GEN HEADLESS E-COMMERCE WITH REACTJS
Time: 5:00 PM
Speaker: DANIEL VEGA, Software Engineer
Nowadays there are lots of platforms built to setup an online store seamlessly but the custom headless alternatives are more attractive to enterprise implementations since they deliver a better way to modernize and optimize experience and performance. This talk is to review how React with NextJS brings an interesting option for multiple integrations on different backend and middleware.

Thursday, April 13th
PRODUCT DESIGN AND AI: HOW TO LEVERAGE IT AND WHAT THE FUTURE HOLDS
Time: 11:00 AM
Speaker: ILSE DOMINGUEZ, Experience Design Senior
Description: In this talk, we'll navigate through the AI tools we have available for product design, some ideas on how to use them, and the human-machine gap we still have yet to fill as designers in an ever-changing world.
HACAKTHON FINALS
Where: GENIUS ARENA
Time: 4:00 PM
Be part of this exciting moment and meet the technological solution winners of SoftServe Hackathon track at Talent Land H20 for all. You will get the chance to know the details of the technological solutions that contributes a fair distribution of water resources and explores innovative methods for wastewater treatment and rainwater harvesting.
About SoftServe
SoftServe is a digital authority that advises and provides software solutions at the cutting edge of technology. We reveal, transform, accelerate, and optimize how enterprises and software companies do business. Our end-to-end solutions and expertise deliver innovation, quality, and speed across the healthcare, retail, energy, manufacturing, and financial services verticals. We empower enterprises and software companies to (re)identify differentiation, accelerate solution development, and vigorously compete in today's marketplace—no matter where you are in your journey.
Visit our website, blog, LinkedIn, Facebook, and Twitter pages.