EN

Nearly 600 Colombians benefit from SoftServe's educational initiatives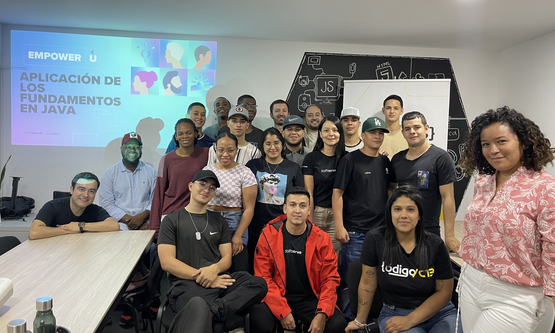 BOGOTÁ, Colombia (September 18, 2023) - SoftServe is training for free about 600 people, who will enhance their skills and knowledge in IT and can access better job opportunities in Colombia. To carry out its training and talent generation initiatives, SoftServe has partnered with Ruta N, Fundación Juanfe and Código Comuna 13 to promote free courses, which has positively impacted the lives of hundreds of participants and contributed to their growth and professional development. Among the beneficiaries are teenage mothers and young people from vulnerable communities.
According to the Ministry of Information Technologies and Communications, MinTIC, by 2025 Colombia will have a deficit of 200,000 IT professionals, a challenging future for the sector, given that it is currently positioned as the fourth largest in Latin America.
To reduce the digital talent gap in the country, SoftServe University partnered with Ruta N to train 480 young talents in Python and Linux languages free of charge. This course obtained the highest number of registrations in the history of Medellin, with 1,500 people enrolled, closing its call in just 24 hours; a sign of the potential and interest of Colombians in training in IT areas. In this course, which lasts 24 weeks (100 hours), participants learn about variable management and basic Python concepts, as well as object-oriented programming and project structuring. On the other hand, trainees will develop key Linux skills and learn how to integrate this programming language with Python.
In addition to this course, SoftServe leads two other educational projects that are part of its global initiative EmpowerU: one with Fundación Juanfe and the other with Código Comuna 13. EmpowerU is a program that aims to create opportunities that impact the lives of women, veterans, refugees, people with disabilities and other groups with diversity characteristics through technology education.
The first course, framed within EmpowerU, is aimed at teenage mothers, and seeks to close the existing female gap in IT education. In this sense, and with the help of the Juanfe Foundation, 24 teenage mothers were trained in the first half of the year, and on August 31 the second cohort was opened, in which 28 mothers are being trained in Database Fundamentals. This group of beneficiaries is key for SoftServe, understanding the current participation of women in the technology sector.
According to a study conducted by 'Crack The Code', a company specialized in technology education, in Latin America female participation in the IT sector is low and, in Colombia as such, the percentage is less than 30%. In contrast to this information, according to DANE figures, between December 2022 and February 2023 the proportion of young women who were not studying or working was 8.4 percentage points higher than that of young men in the same situation. Faced with this, SoftServe and Fundación Juanfe seek with the course to contribute to the professional development of Colombian women, support the generation of opportunities in the labor market and mitigate the low female participation in STEAM careers in the country (Science, Technology, Engineering, Arts and Mathematics), especially those who are teenage mothers.
The second course, within the framework of the EmpowerU program, is aimed at 50 young talents from the Código Comuna 13 academy to train them in applying the foundations in Java, one of the most widely used programming languages for the development of different web applications. Código Comuna 13, on the other hand, is a school for the development of digital skills that seeks to help adolescents and adults of the Commune 13 of Medellin through education, thus contributing to the generation of knowledge and the construction of their life projects.
Globally, SoftServe highlights that it has trained people from Mexico, Ukraine, Poland and Romania, and for the future it expects to continue offering many more educational alternatives that contribute to the diversification and inclusion in the sector of different groups of people, convinced that diversity is a strategic lever for the progress and success of the tech industry and the current and future professionals of the country and the world.
"Colombia is home to thousands of people with a lot of potential, so we want to impact the lives of these talents by contributing to their personal and professional development. Currently there are about 600 Colombians benefiting from the free courses, but we hope that the number will increase and that more and more people will be interested in training in areas related to the ICT sector, to respond to the growing demand for these profiles in the market" said John Howard, Vice President Country Manager of SoftServe Colombia.
About SoftServe
SoftServe is a digital authority that advises and provides software solutions at the cutting edge of technology. We reveal, transform, accelerate, and optimize how enterprises and software companies do business. Our end-to-end solutions and expertise deliver innovation, quality, and speed across the healthcare, retail, energy, manufacturing, and financial services verticals. We empower enterprises and software companies to (re)identify differentiation, accelerate solution development, and vigorously compete in today's marketplace—no matter where you are in your journey.
Visit our website, blog, LinkedIn, Facebook, and Twitter pages.
SoftServe Media Contact
Daniela Guerrero Uribe
Brand Lead Colombia
dguerr@softserveinc.com