Charity Fund "Open Eyes" launches "Generation Tech" project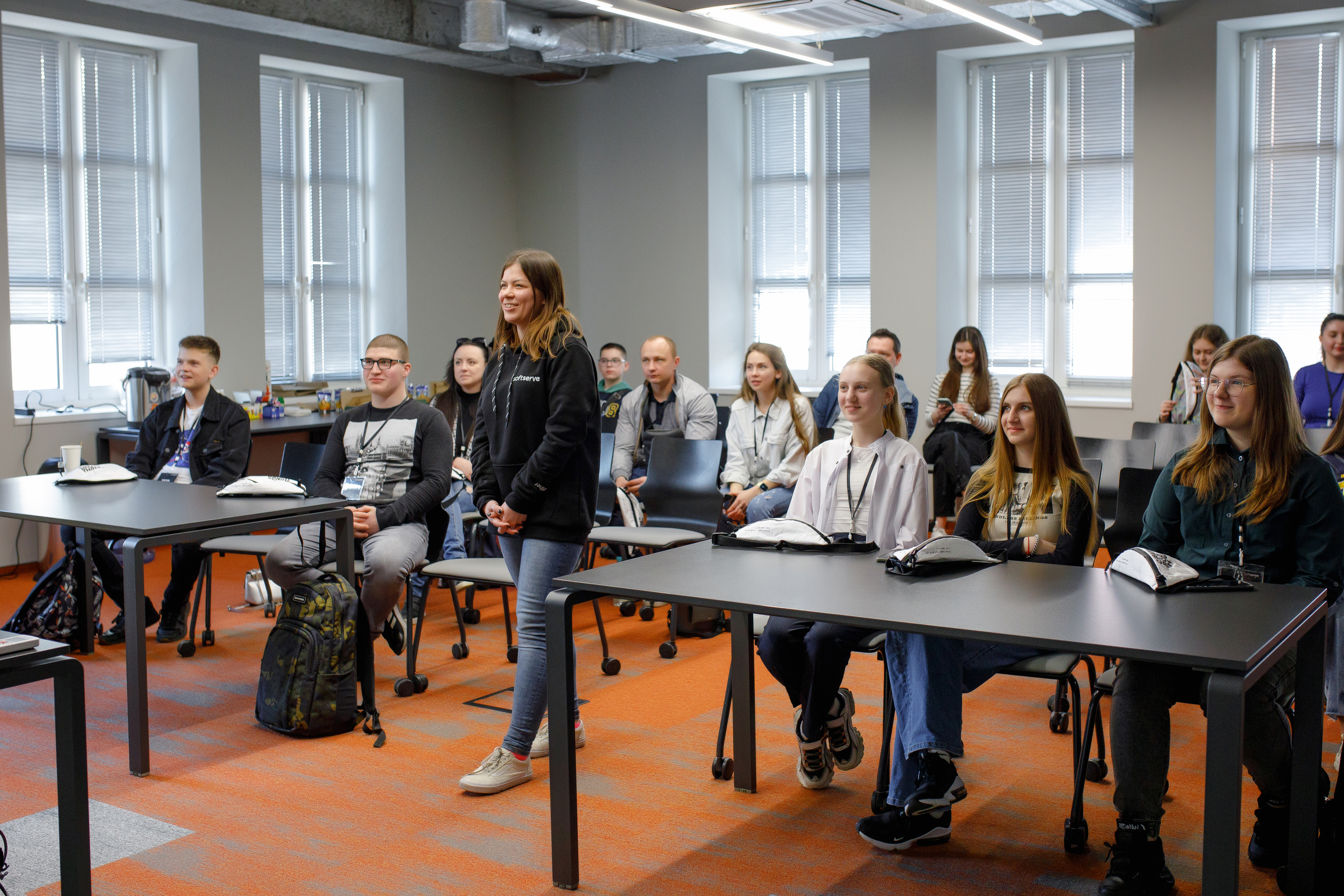 LVIV, Ukraine (June 26, 2023) - SoftServe's corporate Charity Fund "Open Eyes" announces the launch of the GenerationTech (PokolinniaTech) project aimed at developing elementary knowledge of information technologies among children of Ukrainian defenders and children who were forced to leave their homes due to russia's war against Ukraine.
As part of the PokolinniaTech project, SoftServe's volunteer mentors will teach high-school students Python programming language, WebUI development, and the basics of cybersecurity, teamwork, and public speaking. The course will last from two to three months. This initiative will help the participants get their first contact with the IT field, improve their soft skills, and understand which direction is the most interesting for them.
"PokolinniaTech is an evolution of our IT Pupil project, which started in 2017. Since then, more than 300 schoolchildren with fewer chances for private education have been able to get their first knowledge of IT basics and enter a technical university being prepared for it. And one of the project participants became an employee of SoftServe after graduation, can you imagine? I think there are many similar stories in other IT companies. For me, this is not just an educational project - it is a platform where children who are fleeing from war can start to build their lives and futures in another city. They have lost their friends and favorite mentors, who are confused and shocked, get a chance to find mentoring support, get acquainted with the industry and the latest technologies, feel the ground under their feet, have contacts with other children, perhaps find a new circle of friends, get grounded and start from scratch. This is a project about our future," comments Victoria Mishchuk, Director of the Open Eyes Charity Fund.
The PokolinniaTech project will be implemented in nine cities around Ukraine: Kharkiv, Poltava, Ivano-Frankivsk, Chernivtsi, Lviv, Kyiv, Rivne, Odesa, and Dnipro. About 80% of the training will take place online, but several offline meetings are planned depending on the security situation. The Open Eyes Fund additionally launches English courses for project participants at local language schools.
The first enrollment has already started thanks to cooperation with local charitable foundations: The Restoration of Ukraine Charitable Foundation, NGO Darunok, and the Ukrainian Educational Platform Charitable Organization.
About the Open Eyes Charity Fund
The Open Eyes Corporate Charity Fund was founded in 2014 by SoftServe. Since 24.02.22, the fund's activities have been focused on helping Ukraine - more than 500 tons of humanitarian aid have been delivered from 11 countries. The fund has delivered 55 fully equipped ambulances and 52 vehicles for evacuation of the wounded to the front line. 30,000 sets of medicines were delivered to medical institutions, and the military was provided with more than 20,000 personal protective equipment and 6,800 pieces of equipment (computers, modems, Starlink) for the work of both NGOs and governmental organizations and the military. The fund also launched educational programs for internally displaced children. In total, SoftServe has allocated $11.7 million to help the country since 02/24/22.
About SoftServe
SoftServe is a digital authority that advises and provides software solutions at the cutting edge of technology. We reveal, transform, accelerate, and optimize how enterprises and software companies do business. Our end-to-end solutions and expertise deliver innovation, quality, and speed across the healthcare, retail, energy, manufacturing, and financial services verticals. We empower enterprises and software companies to (re)identify differentiation, accelerate solution development, and vigorously compete in today's marketplace—no matter where you are in your journey.
Visit our website, blog, LinkedIn, Facebook, and Twitter pages.