SoftServe Appoints Max Morwind as Manufacturing Industry Leader EMEA and Vice President of Solutions and Consulting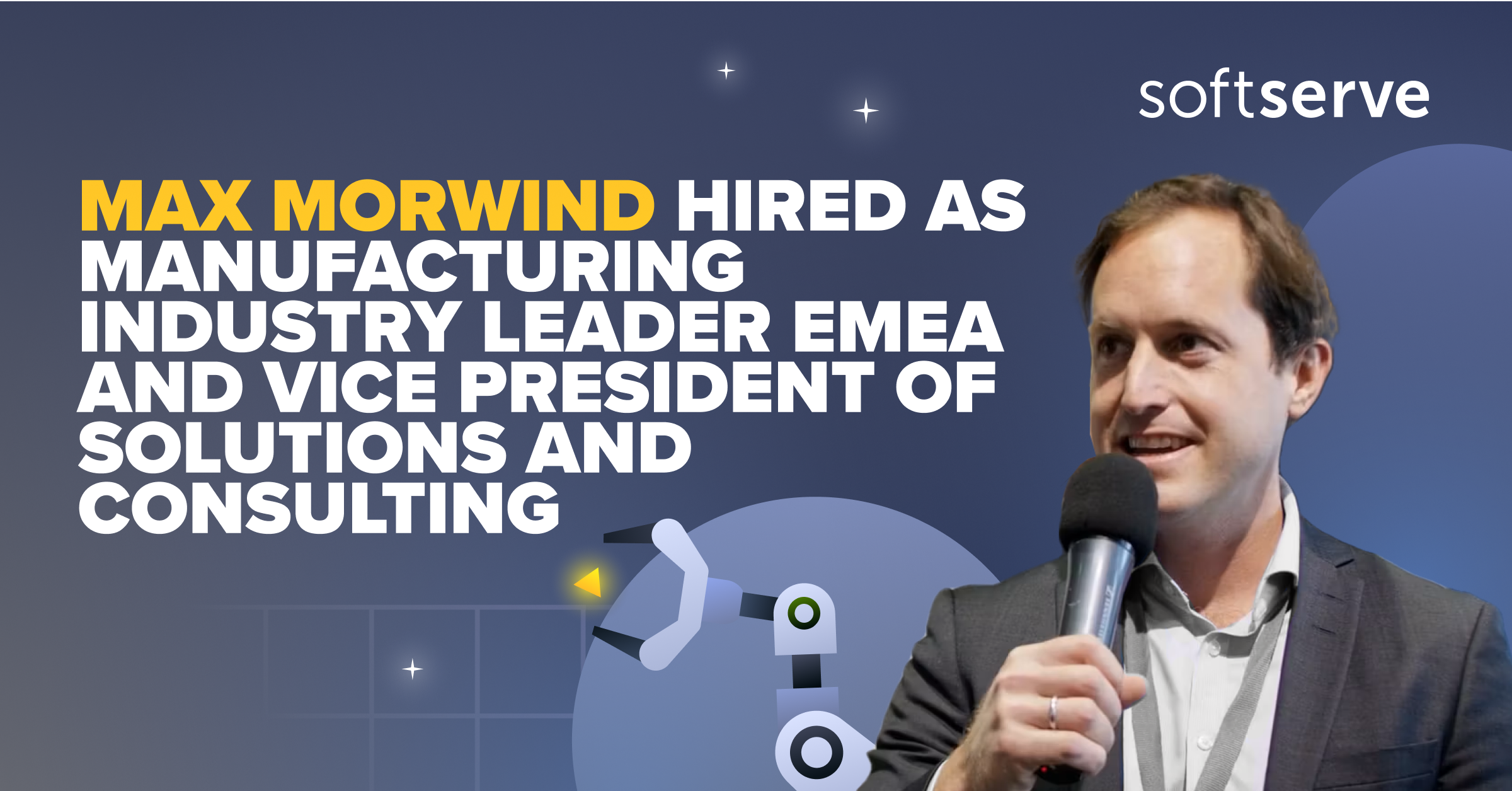 Technology and IoT expert with more than 10 years of success in digitalization and consulting will help expand SoftServe's offerings for manufacturers in EMEA.
SoftServe, a global IT consulting firm, has appointed Max Morwind as Manufacturing Industry Leader EMEA and Vice President of Solutions and Consulting to bolster growth and service expansion for manufacturers across the EMEA region.
Morwind brings over a decade's worth of experience in IoT, digitalization, business development, and technology solutions for manufacturing companies to this position. At SoftServe, he will be responsible for defining and expanding SoftServe's manufacturing domain growth and go-to-market strategy in EMEA. This will include driving roadmaps across the manufacturing and automotive verticals, strengthening relationships with clients by optimizing their time-to-value, and building partnerships both with SaaS startups and cloud hyperscalers. Morwind will report to Volodymyr Semenyshyn, SoftServe's President of EMEA.
"Max's deep experience bringing cutting-edge technology to manufacturers in Europe is a great addition to SoftServe EMEA's team," Semenyshyn said. "I am excited that he will oversee our expansion in the domain and strengthen our existing partnerships to build solutions and services that give our clients real value."
"SoftServe's command of advanced technologies and strong network of partners bring the innovative solutions that create real value for manufacturers," Morwind said. "as manufacturing industry leader EMEA, I will focus on optimizing our manufacturing clients' time-to-value, enabling transformation through new digital technologies in a fast-changing business environment. By helping our clients grow their business, increase efficiency, and reduce costs, I also aim to fuel SoftServe's continuous and rapid rate of growth in EMEA."
Prior to joining SoftServe, Morwind helped Microsoft EMEA's clients and partners implement IoT and IIoT solutions as a senior technical sales manager, working frequently with German Mittelstand companies to harness the cutting edge of technology.
A firm believer in the power of entrepreneurship, Morwind is a mentor with Netzwerk Chancen, a nonprofit organization that promotes social mobility by supporting talented young people who lack affluent backgrounds. He also serves as an advisor on the board of trustees at the University of Bayreuth, helping to create a curriculum that prepares students to take advantage of opportunities in the digital workforce.
Morwind studied entrepreneurship and innovation as well as international marketing and management in Vienna at the Wirtschaftsuniversität Wien and in Buenos Aires at
Universidad Torcuato Di Tella. Today, Morwind lives outside of Munich on Lake Starnberg with his wife and children, with whom he enjoys playing soccer and other sports.
About SoftServe
SoftServe is a digital authority that advises and provides software solutions at the cutting edge of technology. We reveal, transform, accelerate, and optimize how enterprises and software companies do business. Our end-to-end solutions and expertise deliver innovation, quality, and speed across the healthcare, retail, energy, manufacturing, and financial services verticals. We empower enterprises and software companies to (re)identify differentiation, accelerate solution development, and vigorously compete in today's marketplace—no matter where you are in your journey.
Visit our website, blog, LinkedIn, Facebook, and Twitter pages.
SoftServe Media Contact
Andrew Kavka
Analyst and Public Relations Lead
akavk@softserveinc.com