EN

SoftServe Bulgaria received the AIBEST award for "The best resilience project"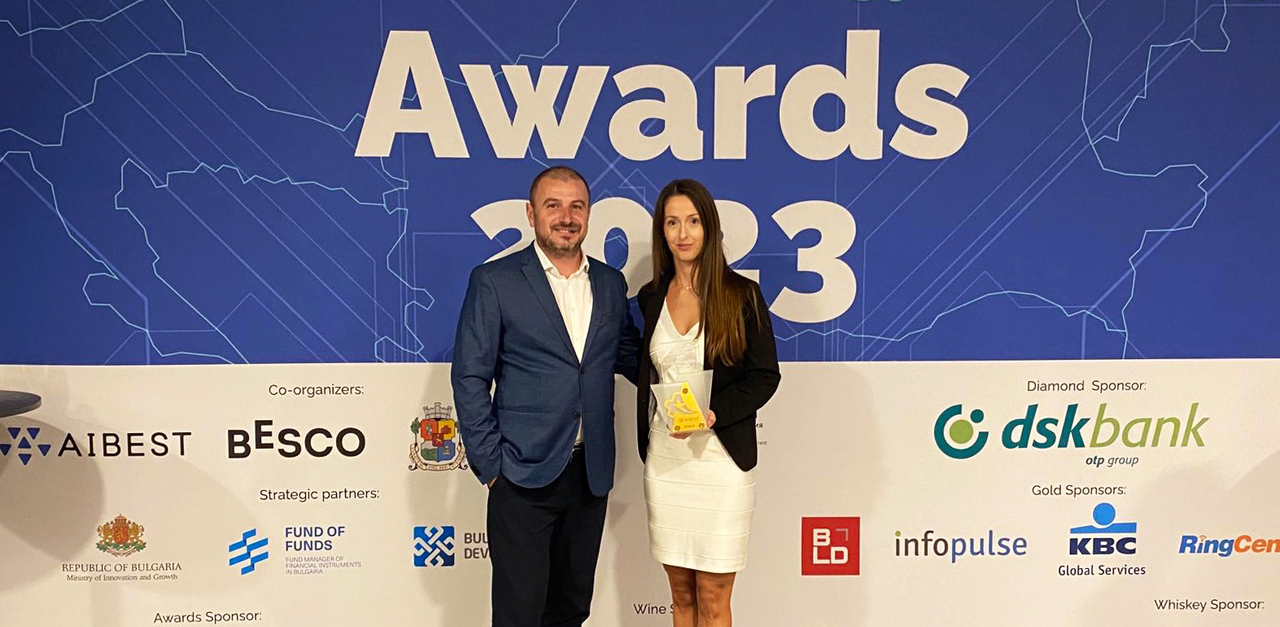 With 500+ employees and several offices in Bulgaria, SoftServe won recognition from the Association for Innovation, Business Excellence, Services and Technology for its strategy for sustainable development and support in crisis situations.
The leader in digital innovation, SoftServe, received an award in the category "The Best Resilience Project of the Year" from AIBEST for its efforts towards sustainable development and helping society. The prestigious award clearly emphasizes not only the company's pursuit of stable growth but also its ability to cope with challenges in any situation.
The AIBEST Awards recognize technology companies, investors, and local governments in South-East Europe that demonstrate the best practices to create a better business environment. As a leading company in the IT business, SoftServe partners with organizations in Bulgaria and around the world to develop projects of a different nature that benefit society.
As a result of its successful cooperation with the Municipality of Burgas and jointly organized internal and external initiatives, SoftServe creates a favorable business environment for its employees from various locations and supports the development of the sector in the country.
"The office in Burgas is our first office outside of Sofia because we believe in the strong potential of the city. There are excellent professionals in Burgas. In addition, quite a few IT professionals from Ukraine and the countries of the region have also settled there, which suggests that the city has a lot to offer the entire sector and that it can be considered a center of attraction for technology experts." - shares Andon Simeonov, Country Manager at SoftServe.
SoftServe also adds support in times of crisis at the core of its sustainable development strategy. The company successfully uses its long-term technological experience and addresses critical needs through digital solutions and innovative approaches. A team of SoftServe professionals creates a 24/7 hotline and chatbot in cooperation with the Bulgarian government and Rakuten Viber to provide information on the most important public topics in crisis situations. Actions like this not only strengthen SoftServe's internal community, providing opportunities for company employees to be part of a variety of socially significant topics and projects but also leave an impression on the wider business environment.
With the successful implementation of its strategy for sustainable development and support in crisis situations, SoftServe is an example of how stable growth and supporting society are possible, even in the most challenging moments.
About SoftServe
SoftServe is a premier IT consulting and digital services provider. We expand the horizon of new technologies to solve today's complex business challenges and achieve meaningful outcomes for our clients. Our boundless curiosity drives us to explore and reimagine the art of the possible. Clients confidently rely on SoftServe to architect and execute mature and innovative capabilities, such as digital engineering, data and analytics, cloud, and AI/ML.
Our global reputation is gained from more than 30 years of experience delivering superior digital solutions at exceptional speed by top-tier engineering talent to enterprise industries, including high tech, financial services, healthcare, life sciences, retail, energy, and manufacturing. Visit our website, blog, LinkedIn, Facebook, and X (Twitter) pages for more information..
SoftServe Media Contact
Boryana Dzhoneva
Brand Lead Bulgaria
bdzhonev@softserveinc.com