EN

SoftServe Colombia recognized as the best employer for youth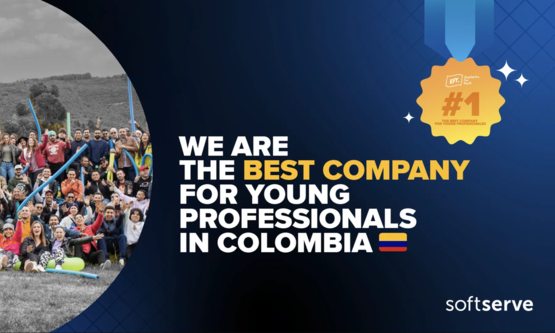 BOGOTÁ, Colombia (September 21, 2023) - SoftServe in Colombia was recognized by Employers for Youth (EFY) Colombia as the best company to work for youth in two categories - all industries and tech companies.
SoftServe obtained first place in two of the rankings conducted by EFY Colombia (general and technology sector), as a result of its employer brand strategy focused on providing its employees with job stability, as well as the right conditions for their personal and professional growth, all framed in a culture based on the following pillars: the person, the family, professional development and work-life balance.
SoftServe, that arrived in the country in 2022 is convinced that Colombian talent is key to social transformation and the construction of the future and expects to continue generating competitive and stable job opportunities for young professionals in Colombia. Aligned with this objective, the company currently has about 200 employees (74% of them are people under age 35) and plans to increase its number of employees by 50% by the end of the year.
Regarding the Employers for Youth (EFY) Tech Colombia 2023 ranking, for this year more than 3,300 young professionals from 41 companies participated in its seventh version, who evaluated their experience as employees in the technology companies where they work and the attributes they value most within them. The results showed that the main dimensions for attracting and engaging talent according to the respondents were: learning and development with 16%, job stability also with 16% and quality of life with 14%.
With respect to the employer brand strategy that led SoftServe to receive both awards, the company offers its employees differential incentives such as remote work, flexible schedules, competitive salaries and standards of fairness and respect for diversity. Among other benefits, the organization offers its employees internal development programs and training opportunities through SoftServe University, a platform that contributes to their professional growth by allowing them to improve their knowledge and skills in technology and even promote internally to other areas. To date, with SoftServe University, more than 190 employees have been trained in 367 learning solutions in Colombia.
On the other hand, for the external public, the multinational offers the possibility of education through free courses and trainings where even, in case the participants have an excellent performance, they get the possibility of applying all the knowledge learned in a work experience in SoftServe. Particularly this year, the company will end the year with close to 600 people trained in technical and technological skills for free.
"At SoftServe we firmly believe in our employees, we know that the future of the organization depends on their success and growth, so we strive to offer them the right conditions for their personal and professional growth. After only one year of operations in Colombia, we have positioned ourselves as a company that knows the market and the needs of the country's young talents. Undoubtedly, these two awards motivate us to continue working for the Colombian youth, the generation of opportunities and the development of talent," said John Howard, Vice President Country Manager of SoftServe Colombia.
With a clear and transversal objective to its operations, SoftServe is committed to the generation of diverse and inclusive environments; this is why the company recently joined the UN Global Compact Colombia network, a platform that seeks to create a more stable and equitable global market, thus promoting more prosperous societies.
About SoftServe
SoftServe is a digital authority that advises and provides software solutions at the cutting edge of technology. We reveal, transform, accelerate, and optimize how enterprises and software companies do business. Our end-to-end solutions and expertise deliver innovation, quality, and speed across the healthcare, retail, energy, manufacturing, and financial services verticals. We empower enterprises and software companies to (re)identify differentiation, accelerate solution development, and vigorously compete in today's marketplace—no matter where you are in your journey.
Visit our website, blog, LinkedIn, Facebook, and Twitter pages.
SoftServe Media Contact
Daniela Guerrero Uribe
Brand Lead Colombia
dguerr@softserveinc.com