EN

SoftServe Colombia recognized by ACI Medellin for its impact in the city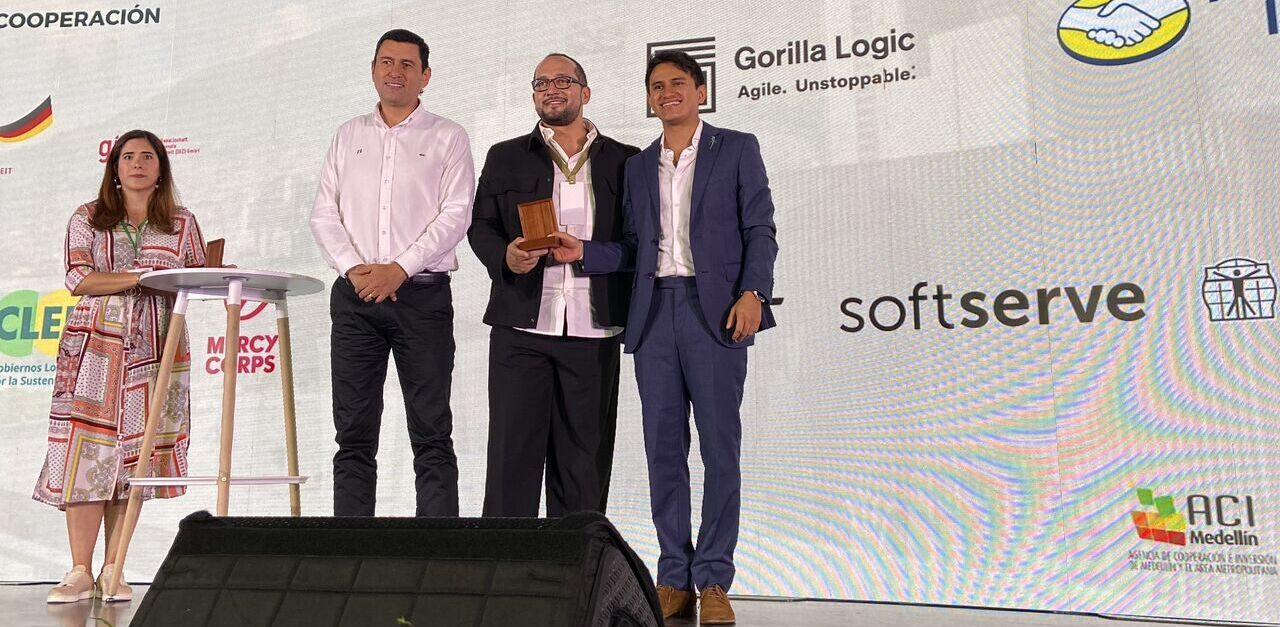 BOGOTA, Colombia (October 6, 2023) - In the framework of the event "Medellin and its International Allies 2023" held on October 5, the Agency for Cooperation, and Investment of Medellin (ACI) recognized SoftServe for its technological and social investment in the city. Since its arrival in the country in 2022, SoftServe has cooperated with different companies, public and private, for the economic transformation and growth of the IT sector in the city.
Among the parameters that led to this recognition are the generation of educational opportunities for the communities, corporate social responsibility projects, high impact on the economic development of the city, actions that are fundamental in gender equity issues, social initiatives, among others.
With the arrival of US$836 million in foreign investment, according to the ICA, Medellín has become an attractive destination for many international companies seeking to expand their businesses, as they find in the city a growing market for technological services, as well as qualified and motivated talent, favorable business regulations and a strategic geographic location. Medellín, as a Special District of Science, Technology, and Innovation, is a key factor in the development of the IT sector in the country, which is currently the fourth largest in Latin America and, according to data from Fedesoft and the International Monetary Fund (IMF), is made up of around 11,000 companies and is valued at approximately US$10 billion.
In the panel 'Medellin, on the road to the transformation of a sustainable future' held as part of the event preceded by the ICA, John Howard, Vice President and Country Manager Colombia pointed out that "we have found in this city an ecosystem conducive to IT development and innovation, with a special commitment to education, entrepreneurship, social inclusion and digital transformation. It also has many potential talents and a diverse and dynamic culture that fosters creativity and innovation, areas that are especially important in the technology industry".
SoftServe, within its action plan for the sustainable development of the country and the progress of communities, defines actions and initiatives aimed at generating more employment, formalizing the IT sector in Colombia, boosting the industry and training talent. In relation to the latter, this year the company partnered with Fundación Juanfe, Ruta N and Código Comuna 13 to offer free technology courses and thus positively impact the lives of close to 600 Colombians, contributing to their growth and professional development. Among the beneficiaries are teenage mothers, young people from vulnerable communities, among others.
The company also seeks to positively impact its employees, suppliers and other stakeholders that are part of its business model, providing them with the necessary resources -physical, mental, and financial- to help them prosper personally and professionally. It also works constantly to contribute to closing gaps with initiatives focused on generating opportunities, gender equity, diversity and inclusion, and fair labor practices, among others.
With this recognition and convinced that Colombian talent is key to social transformation and the construction of the future, SoftServe will continue working to contribute to the growth of the IT industry from a differential value proposition in the market, generating more training opportunities for Colombian talent and working together with different companies to contribute to the technological transformation of the city and the country.
About SoftServe
SoftServe is a premier IT consulting and digital services provider. We expand the horizon of new technologies to solve today's complex business challenges and achieve meaningful outcomes for our clients. Our boundless curiosity drives us to explore and reimagine the art of the possible. Clients confidently rely on SoftServe to architect and execute mature and innovative capabilities, such as digital engineering, data and analytics, cloud, and AI/ML.
Our global reputation is gained from more than 30 years of experience delivering superior digital solutions at exceptional speed by top-tier engineering talent to enterprise industries, including high tech, financial services, healthcare, life sciences, retail, energy, and manufacturing. Visit our website, blog, LinkedIn, Facebook, and X (Twitter) pages for more information..
SoftServe Media Contact
Daniela Guerrero Uribe
Brand Lead Colombia
dguerr@softserveinc.com