EN

SoftServe Mexico joins Labor Positiva initiative around HIV/AIDS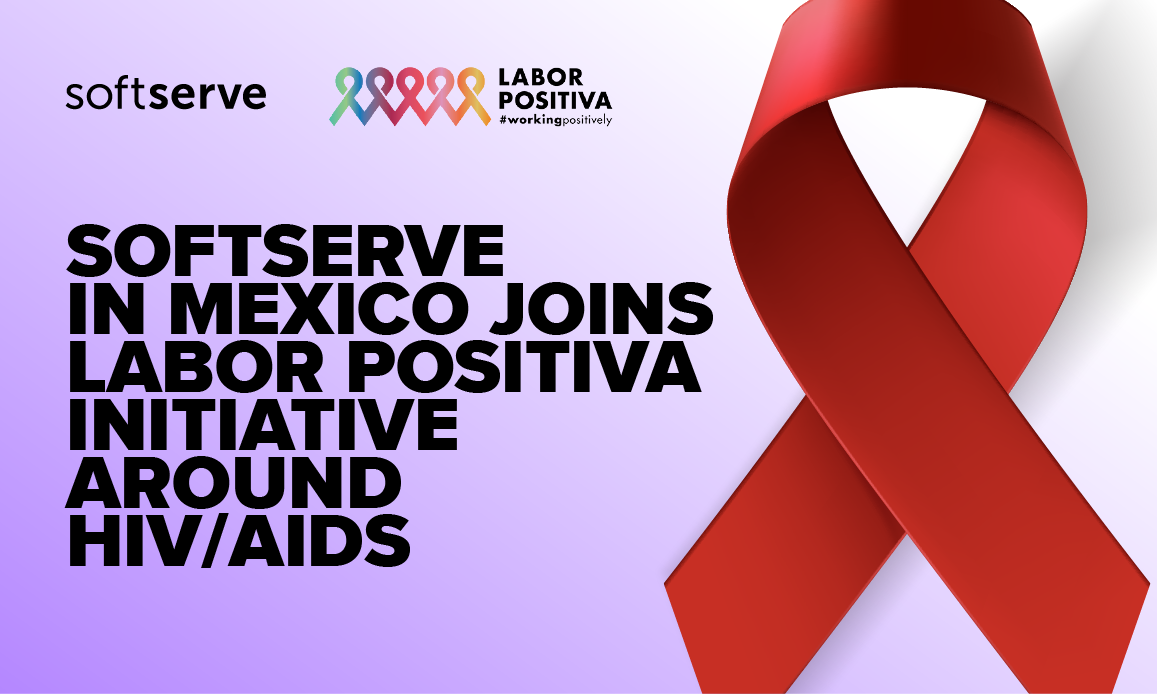 Mexico City, May 11, 2023 - Labor inclusion, in all its forms, is a sign that organizations are truly committed to their community and that they seek to make this world a better place for all people, regardless of their conditions and differences.
Now, when we talk about inclusion, there are so many elements to consider that some may remain unanswered. There is, for example, the structural discrimination faced by people living with the human immunodeficiency virus (HIV). The stigmatization of people with HIV is born from misinformation, hence the urgency to transform this reality. During 2022, 16,791 cases of HIV were diagnosed in Mexico according to INEGI, this is 888 more than the previous year and 6,374 more compared to 2020, when the world came to a standstill due to the pandemic.
SoftServe Mexico announces its incorporation into Labor Positiva, an initiative to address stigma and discrimination towards people with HIV in the workplace; taking into account that, according to available global studies, close to 50% of the population has discriminatory attitudes towards this group.
Labor Positiva is part of #WorkingPositively, the global initiative created in 2019 by IBM and SAP together with local NGOs. In Latin America, it is promoted by Fundación Huésped, which to date has helped build a global network with more than 200 companies, to which SoftServe Mexico is now added, reaffirming its commitment to diversity, equity and inclusion, aspects that are part of its DNA and on which it has carried out various actions worldwide for years.
In this regard, Erandi López, SoftServe Mexico's Corporate Social Responsibility leader, commented: "We are a company focused on people; we understand that our social commitment extends not only to SoftServe associates but also to the communities where we operate. That is why we are proud to join Labor Positiva, to continue building safe spaces free of discrimination both in the workplace and in society."
Through Labor Positiva, SoftServe and the more than 200 companies that have joined this initiative will continue working to eliminate all forms of stigma and discrimination towards people living with HIV, creating a safe and empathetic workplace, through practices such as:
Ensure people's privacy and never require an HIV test within the organization's medical examinations.
Disseminate social and governmental actions in response to HIV/AIDS.
Inform, sensitize, and train collaborators, members of the value chain, and members of the community on HIV/AIDS.
Promote the labor insertion of people with HIV/AIDS.
This is one more step in the efforts of SoftServe as a socially responsible company, one year after arriving in Mexico, to continue promoting its social commitment based on the UN 2030 Agenda and its Sustainable Development Goals (SDGs), contributing to the resolution of global challenges such as health and well-being, gender equality, reduction of inequalities, and decent work and economic growth.
To learn more about SoftServe's projects as a socially responsible corporation, visit
this link
. And if you want to join your organization in the global movement #WorkingPositively, to build a more equal work community free of discrimination, go to
this website
.
About SoftServe
SoftServe is a digital authority that advises and provides software solutions at the cutting edge of technology. We reveal, transform, accelerate, and optimize how enterprises and software companies do business. Our end-to-end solutions and expertise deliver innovation, quality, and speed across the healthcare, retail, energy, manufacturing, and financial services verticals. We empower enterprises and software companies to (re)identify differentiation, accelerate solution development, and vigorously compete in today's marketplace—no matter where you are in your journey.
Visit our website, blog, LinkedIn, Facebook, and Twitter pages.