EN

SoftServe Mexico recognized as the best tech employer for youth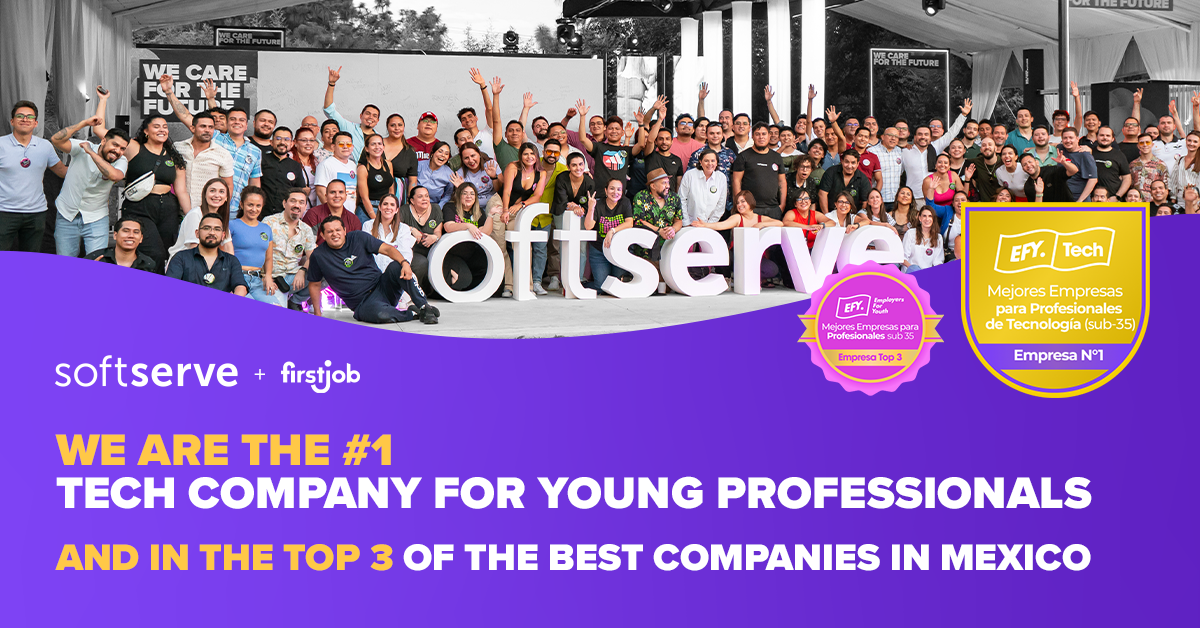 MEXICO CITY, Mexico (October 4, 2023) - SoftServe participated in the Employers for Youth (EFY) Mexico 2023 study, obtaining in its fifth edition the first place in the technology category (EFY Tech Mexico 2023) and the second place in the general category (EFY General Mexico 2023).
With these results, the company which next March will celebrate two years in Mexico (with offices in Guadalajara, Jalisco), is consolidated as the best company in the country for young professionals in the IT industry, and one of the three most prominent nationally in terms of opportunities and job development for young talent.
The keys that allowed them to achieve this double feat in the country were their remote work model, flexible schedules, competitive salaries and equity and respect standards for diversity. About this point, it is worth mentioning that last May SoftServe Mexico joined Labor Positiva (#WorkingPositively), a global initiative to address stigma and discrimination towards people with HIV in the workplace.
"Mexico is a key territory for us. We currently have more than 200 professionals here in constant development, and we try to ensure that younger SoftServians grow at par or even more than the local business. For example, apart from certain facilities that are not available in other companies in this sector, we offer them to perfect their knowledge and skills in technology through SoftServe University, a platform that during 2022 gave 3,765 hours of training to 183 Mexican students, thanks to the support of four mentors and a coach who addressed 704 solutions. If we provide consulting outside, inside we like to give opportunities", says Vladimir Mendoza, SoftServe's Country Manager.
With the FirstJob support, an organization that connects young people with big companies in their first job or professional internship search, Employers for Youth is a study of employee experience and employer brand that recognizes the best companies for professionals from 18 to 35 years old. Currently applied in 15 Latin American countries and is the largest ranking in the world of its kind.
Its approach is 100% quantitative, it is not lucrative since companies can register with EFY for free, and their measurements through questionnaires analyze 10 dimensions: recognition, work environment, talent, reputation, innovation, infrastructure, diversity and culture, quality of life, career development, and benefits.
To get Tech Mexico 2023 first place, SoftServe was measured against 45 other companies in this sector, and to get General Mexico 2023 second place, the number of participating companies grew to 104, considering the one founded in 1993 in Lviv (Ukraine) and which this year has stood out in Mexico for its corporate social responsibility (CSR) actions. In the EFY fifth national edition, more than 21,000 young professionals participated from 18 to 35 years of age.
"We appreciate this recognition that allows us to identify and strengthen our practices to continue building a workspace focused on the people's development and well-being", adds Erandi López, SoftServe Mexico's Corporate Social Responsibility leader.
Åround the world, more than 100,000 young professionals have answered the EFY questionnaires and at least 1,000 companies have participated in the ranking.
About SoftServe
SoftServe is a premier IT consulting and digital services provider. We expand the horizon of new technologies to solve today's complex business challenges and achieve meaningful outcomes for our clients. Our boundless curiosity drives us to explore and reimagine the art of the possible. Clients confidently rely on SoftServe to architect and execute mature and innovative capabilities, such as digital engineering, data and analytics, cloud, and AI/ML.
Our global reputation is gained from more than 30 years of experience delivering superior digital solutions at exceptional speed by top-tier engineering talent to enterprise industries, including high tech, financial services, healthcare, life sciences, retail, energy, and manufacturing. Visit our website, blog, LinkedIn, Facebook, and X (Twitter) pages for more information..
SoftServe Media Contact
Erik Alvarado
Brand Lead Mexico
ealva@softserveinc.com