EN

SoftServe and Paso Pacifico to deliver a digital platform for tropical forest restoration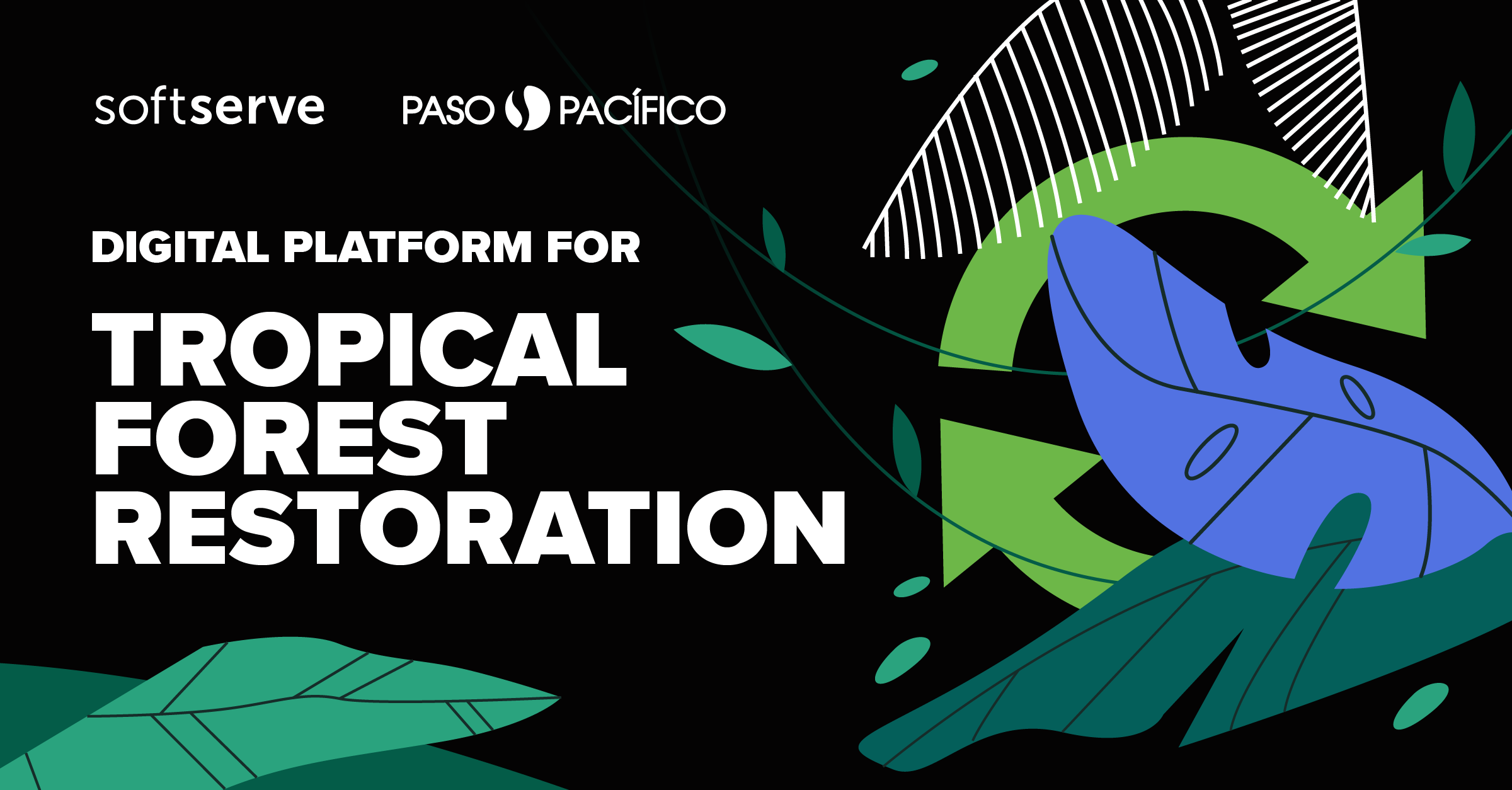 SoftServe supports the non-profit Paso Pacifico to develop a digital platform to slow climate change through tropical forest restoration in Central America. The project has started within Open Tech, SoftServe's corporate pro bono program, where the company's associates volunteer to deliver tech solutions for communities.
Carbon emission is one of the primary drivers of climate change on the planet. At the same time, farmers in Central America have unique knowledge and experience in growing forests by using their machetes (knives used for farming) to assist natural regeneration. Named the Machete Project, the new digital platform can help to catalyze this method at scale while enabling innovation and co-creation by local people, gathering farmer expertise, and transferring knowledge to a younger generation.
Paso Pacifico's executive director, Dr. Sarah Otterstrom says, "Rather than offering a transactional approach to growing trees, the Machete Project emphasizes an intergenerational connection, community, and knowledge sharing. SoftServe's talented architects, designers, and business strategists quickly honed in on this project's unique and holistic nature. The company has also shown its strong commitment to addressing climate change."
The Machete Project can become a digital force against climate change by catalyzing a social movement around forest restoration. The development stage has started, and the project is expected to roll out in five Latin American countries, including Colombia and Mexico, in the coming year, engaging thousands of farmers and resulting in the growth of hundreds of thousands of trees.
"Open Tech is created to extend SoftServe's positive impact to communities we work and live in. In 2022, 518 of our associates were volunteering for 40 pro bono projects worldwide, and now we are delighted to join a good cause for Latin America's locations as well. Besides, designing sustainable IT solutions is one of our environmental priorities", - says Lukasz Popkowski, Project Manager at SoftServe.
Paso Pacifico's executive director and Ashoka fellow Dr. Sarah Otterstrom began to design the Machete Project through Ashoka's ASPIRe program which supports social entrepreneurs in orchestrating impact at scale through societal thinking, an approach well-supported by technological platforms.
About SoftServe
SoftServe is a digital authority that advises and provides cutting-edge technology services.
Employing more than 13,000 associates in 41 centers, offices, and client locations globally, SoftServe is one of the biggest software development companies in Central and Eastern Europe. Headquarters are located in Lviv, Ukraine and Austin, Texas, USA. The company has development centers in Ukraine, Poland, Bulgaria, and started operating in Romania, Mexico, Chile, and Colombia in 2022.
SoftServe has a proven track record in healthcare and life sciences, financial services and insurance, retail, high-tech (ISVs), manufacturing and energy industries. The company is working on more than 900 active projects for clients in Northern America, the EU, and Asia. Among the company's clients are such giants as IBM, Cisco, Panasonic, Cloudera, Henry Schein, Spillman Technologies, and others. SoftServe is proud to partner with Google Cloud Platform, Amazon Web Services, Microsoft Azure, and other well-known tech companies.
The company offers deep expertise across software engineering, cloud and DevOps, big data and analytics, AI and machine learning, the Internet of Things, experience design and platforms, extended reality (XR) and robotics.
SoftServe delivers open innovation—from generating compelling new ideas, to developing and implementing transformational products and services. We empower enterprises and software companies to (re)identify differentiation, accelerate solution development, and vigorously compete in today's digital economy.
Visit our website, blog, LinkedIn, Facebook, and Twitter pages.
About Paso Pacifico
Paso Pacifico is a non-profit organization that promotes and implements landscape-scale conservation projects in Central America. The purpose is to build wildlife corridors that protect biodiversity where people already live. By working with local communities, landowners, and partner organizations, we restore and protect the habitats that form building blocks for wildlife corridors. Our organization believes integrated ecosystems, which span from ridge to reef (the mountains to the sea) are key to the successful conservation of the biodiverse natural ecosystems in Central America.