EN

SoftServe Poland launched EmpowerU for people with disabilities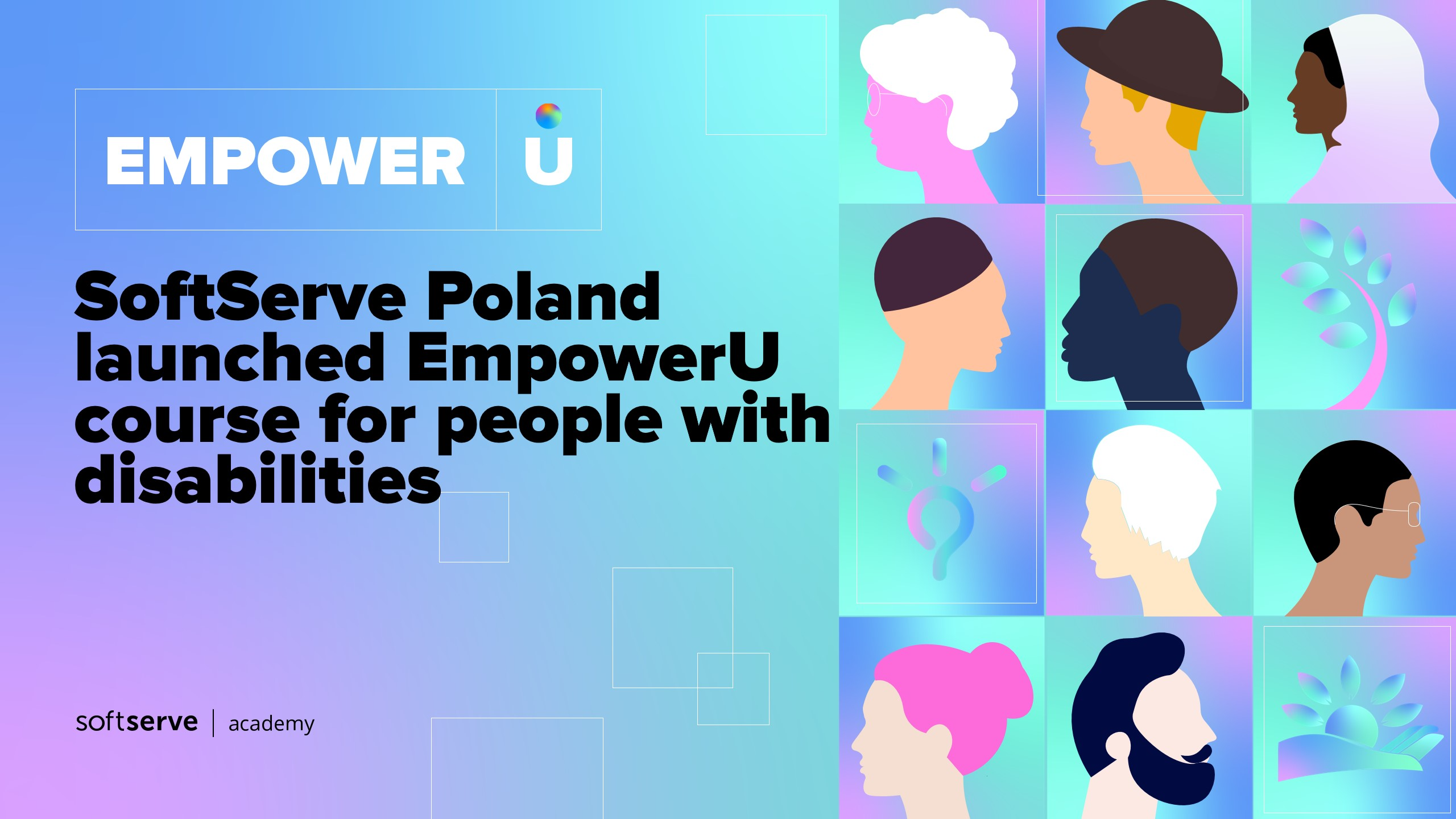 WARSAW, Poland (July 31, 2023) – SoftServe Poland launched a free training course on QC testing basics for people with disabilities. The goal of the project is to facilitate people who often face exclusion and discrimination a chance for unhindered professional development.
There are about 1.3 billion people with disabilities in the world, accounting for 16% of the population. In Poland, this number is 4.7 million. This group certainly includes people who would be eager to start careers in the IT sector and fill positions in companies facing talent shortages. For this to be possible, however, support is needed not only in the immediate environment but also in the business community.
The "QC Testing Basics" training course was created for people with disabilities to encourage them to start a career in IT. The course is delivered online, and classes are held twice a week in the afternoons.
During the course, participants will learn to distinguish between types of software testing, analyze typical requests, find and describe the most common defects in software, create and execute test scenarios. They will also understand the general architecture of modern applications, as well as databases and networks, and HTML. Creating database queries in SQL, learning the basics of data encryption and working with virtualization are also part of the class. Participants will also have a chance to develop their soft skills such as communication, and at the end HR specialists will help create a resume and suggest how to seek employment in the IT industry.
"The organizational culture at SoftServe is oriented towards people and their needs. On a daily basis, we create a friendly environment so that people working with us can develop their creativity and creative thinking - this is what shapes the best conditions for innovation. At SoftServe, appearance, skin color, living situation and religion do not matter. Instead, two basic qualities count: passion and the desire to develop," says Michalina Golab, Senior Communication and CSR Specialist at SoftServe Poland.
The course is part of SoftServe's global initiative EmpowerU, a program that aims to create opportunities that impact people lives including women, veterans, refugees, people with disabilities and other vulnerable groups through IT education and thereby have more professional growth. This program will be implemented for the rest of the year through a series of free basic IT courses led by company experts through SoftServe Academy, a division of its Talent Acceleration Center that is complemented by mentoring and other networks, including university ones.
About SoftServe
SoftServe is a digital authority that advises and provides software solutions at the cutting edge of technology. We reveal, transform, accelerate, and optimize how enterprises and software companies do business. Our end-to-end solutions and expertise deliver innovation, quality, and speed across the healthcare, retail, energy, manufacturing, and financial services verticals. We empower enterprises and software companies to (re)identify differentiation, accelerate solution development, and vigorously compete in today's marketplace—no matter where you are in your journey.
Visit our website, blog, LinkedIn, Facebook, and Twitter pages.