SoftServe Wins Excellence in Practice Award from Association for Talent Development for L&D Practices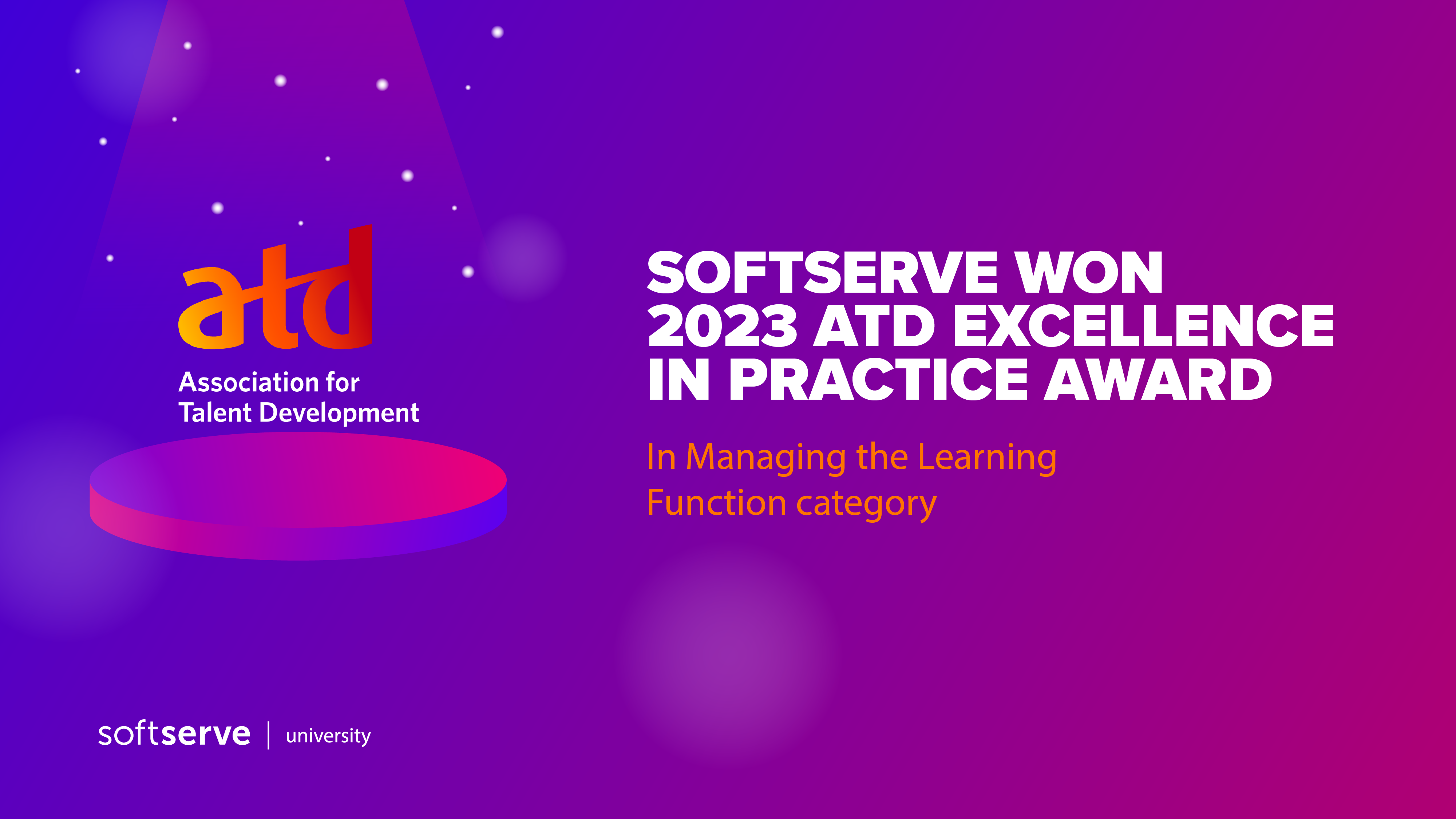 LVIV, Ukraine, May 23, 2023 - SoftServe won the Excellence in Practice Award in the 'Managing the Learning Function' category from Association for Talent Development (ATD). This prestigious award recognizes SoftServe's remarkable transformation of the learning function within its corporate university, resulting in enhancements to associates' learning experience and function scalability, thereby bringing added value to associates and their professional growth.
"Learning and development have always been an essential and integral part of SoftServe. IT specialists keep learning for a lifetime. We have performed the transformation which considerably impacted the SoftServe University Organizational structure, roles, and approaches to provide even more value for customers and enable further effective growth of learning function, its scalability and improving learning experience", says Galyna Datsiv, VP of Learning and Development at SoftServe.
Central to the transformation was the reorganization of SoftServe University's learning function into seven specialized units tailored to meet the diverse needs of the audience. These units include the Talent Acceleration Center, Tech School, Business School, Certification Center, Cross-cultural Communication Center, E-Learning Team, and the Center of Learning Excellence. The establishment of the Center of Learning Excellence signifies SoftServe's dedication to driving continuous improvement through the adoption of best learning management practices, effective tools, global trends, and innovations, all aimed at shaping an environment that fosters excellence in learning experiences.
SoftServe also introduced a learning analytics ecosystem to further enhance data-driven decision-making and management. Embracing the lifelong learning concept, the company has made substantial strides in infusing this philosophy into its corporate culture, ensuring that learning remains a guiding principle in every aspect of its operations.
The efforts of SoftServe have yielded exceptional results, with the creation of 53% more learning solutions than in 2021, that have engaged over 13,870 unique internal learners and 6,000+ external learners as of the end of 2022. Furthermore, SoftServe University achieved a Net Promoter Score (NPS) of 82 points, surpassing the previous year's score by 3 points.
ATD, the world's largest association dedicated to talent development professionals, grants the Excellence in Practice Awards to commend exemplary practices in workplace learning and development. These practices demonstrate clear and measurable results in achieving organizational goals, exhibit appropriate design values, and are closely aligned with other performance improvement initiatives. Notably, the recognized practices yield sustainable, long-term results.
About SoftServe
SoftServe is a digital authority that advises and provides software solutions at the cutting edge of technology. We reveal, transform, accelerate, and optimize how enterprises and software companies do business. Our end-to-end solutions and expertise deliver innovation, quality, and speed across the healthcare, retail, energy, manufacturing, and financial services verticals. We empower enterprises and software companies to (re)identify differentiation, accelerate solution development, and vigorously compete in today's marketplace—no matter where you are in your journey.
Visit our website, blog, LinkedIn, Facebook, and Twitter pages.