Building a full-scale IT career through prototyping
When
Mar 17, 2022
Where
Online, Malta
What:
Online event
Topic:
Building a full-scale IT career through prototyping
About Event
SoftServe is hosting the online event "Building a full-scale IT career through prototyping". Wireframes, cardboard prototypes, brand directions, clients' needs… Engineers are great at creating prototypes to learn about desirability, feasibility and figure out specific unknowns. But how can we keep up with the new technologies, patterns, standards, and best practices, too? Is it possible to build a full-scale IT career through prototyping?
"So, where do I start?" – you ask. Luckily, we've dedicated this 1-hour online event for your starting point. During the event we will uncover important implications for our work and not just that – we will talk how we could build a full- scale IT career through prototyping.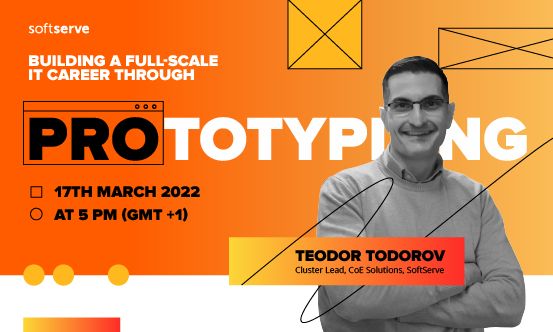 In this webinar, we will be talking about how a numerical prototype can help you:
understand how to use prototyping in 'discovery" research
see different ways to prototype the same thing
estimate project scopes, budgets, and their relevance from a business perspective
prioritize work by identifying the potential impact of projects and ideas
find ways to consider the feasibility and viability of your ideas through prototypes
uncover hidden assumptions in your work
uncover what experiments to run to test these assumptions.
Who is this webinar for?
WEBUI Software Engineer, QC Engineer and everyone who is interested in prototyping and successful career building.
Join Teodor Todorov, Cluster Lead, CoE Solutions at SoftServe on March 17th, 2022 to dive into details and be able to ask your questions in real-time from the comfort of your own home.
About SoftServe
SoftServe is a digital authority that advises and provides at the cutting-edge of technology. We reveal, transform, accelerate, and optimize the way enterprises and software companies do business. With expertise across healthcare, retail, energy, financial services, and more, we implement end-to-end solutions to deliver the innovation, quality, and speed that our clients' users expect.
SoftServe delivers open innovation, from generating compelling new ideas, to developing and implementing transformational products and services. Our work and client experience is built on a foundation of empathetic, human-focused experience design that ensures continuity from concept to release.
We empower enterprises and software companies to (re)identify differentiation, accelerate solution development, and vigorously compete in today's digital economy. No matter where you are in your journey.
Visit our website, blog, LinkedIn, Facebook, and Twitter pages.