Human360º

Platform for Decentralized Clinical Trials
Clinical researchers of the future will need to meet the growing demand for frictionless, connected digital experiences.​
​
SoftServe's Human360º Platform for Decentralized Clinical Trials is purpose-built for life science organizations. It transforms the sponsor, investigator, and patient digital experiences by adding efficiencies and lowering costs. The Human360º platform helps retain trial participants and ensures they are adhering to the trial protocols. It also allows sponsors and investigators to accurately and securely capture real-world evidence for compliance with regulatory requirements.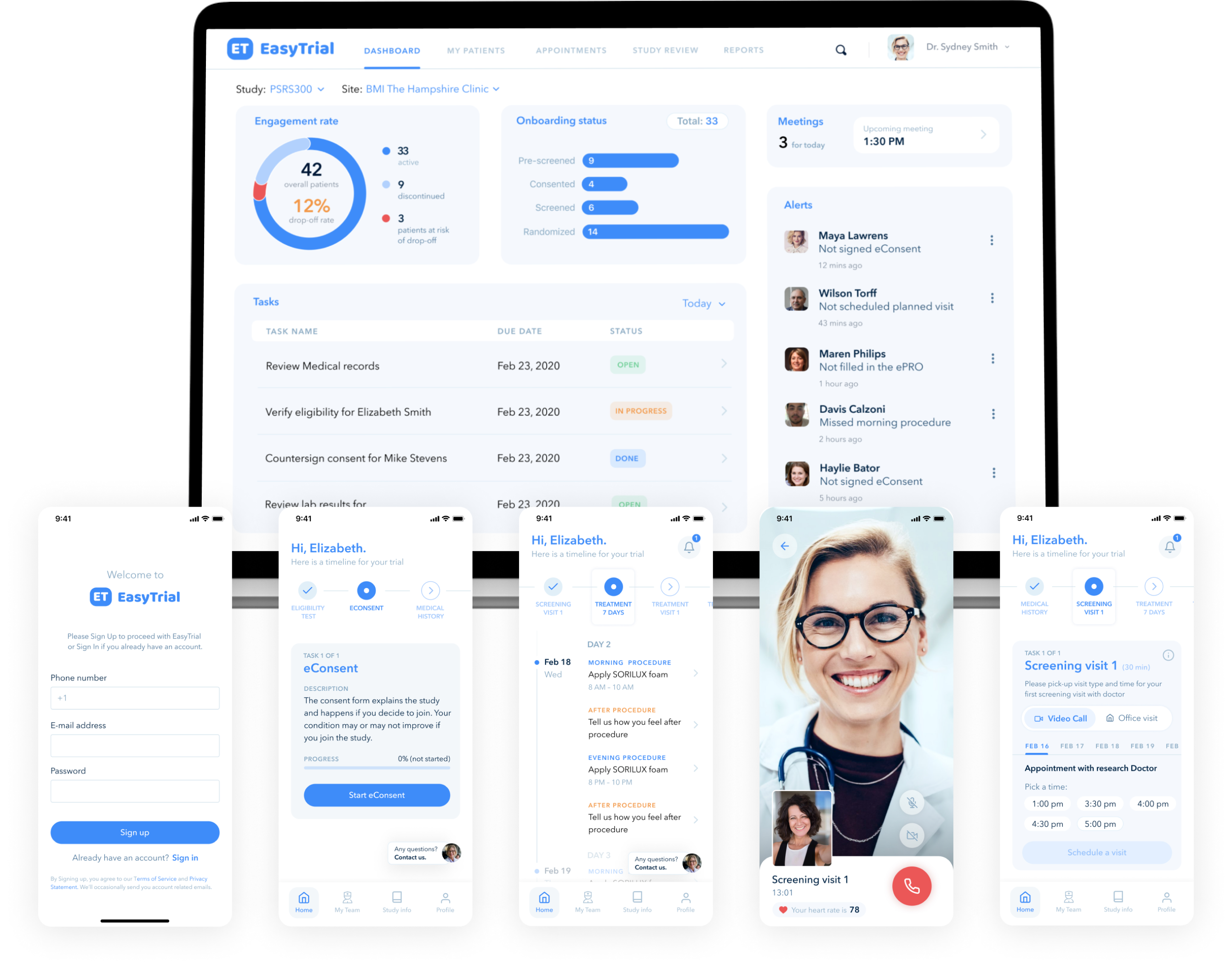 Ready to learn more?
Schedule a live interactive demo with one of our digital experience experts and see how Human360º can help build efficiencies and lower costs for your organization.
register for demo
Why Human360º
Digital experience platform to support life science companies' ability to initiate decentralized clinical trials in the post-COVID-19 world.
Purpose-built to align with the Food and Drug Administration's guidelines on drug discovery and commercialization regulations.
Drives frictionless engagement for remote trial participants and researchers by providing a low-code/no-code platform for seamless orchestration of digital technologies such as web, mobile, chatbots, conversational artificial intelligence, IoT, and other communication channels.
Better user experience results in increased trial participation, engagement, and adherence.
Allows broader patient recruitment by bringing the trial site into their homes.
Incorporates pre-built components of the Human360º platform with eConsent, intelligent self-service, virtual visits, device data, and ePROs—all integrated into existing clinical trial solutions.
Lowers costs and accelerates time to initiate decentralized clinical trials.
Traditional clinical trial challenge... patient engagement
median engagement cost per patient*
of trials fail to retain enough patients
of patients may be discarding their study medications
lost annually due to non-adherence
Leading to
Increased enrollment of patients—50 to 200%—to achieve the same statistical outcomes
Overestimation of medication dosages and underestimation of adverse event profiles such as safety alerts, recalls, and market withdrawals​
Lost revenue at the post-marketing stage​
Benefits
Drive patient engagement with an integrated, unified, and personalized digital experience
Increase patient satisfaction and compliance
Foster patient retention and adherence
Lower costs for patients, investigators, and trial sites
Improve overall efficiency of running trials
Why SoftServe?
SoftServe brings deep domain experience across the entire healthcare ecosystem. We are passionate about fostering the next generation of digital health, making us the ideal partner for life science companies considering decentralized clinical trial enablement.
Human360º Digital Health Platform: Foundational building block of a component-driven architecture that accelerates time to market and reduces the total cost of ownership (TCO) of decentralized clinical trial solutions
Domain-Driven Patient Experience:  SoftServe understands patient motivations, desires, and goals, allowing us to create user experiences that engage and retain trial participants
Big Data and AI/ML Expertise: We take an intelligent enterprise approach to support the data capture, management, and analysis needs while meeting regulatory requirements
Enterprise-Grade, Cloud-First Approach: SoftServe fosters next-generation digital experiences and platforms using the leading global cloud service providers