SoftServe Announces Generative AI Partnership With Google Cloud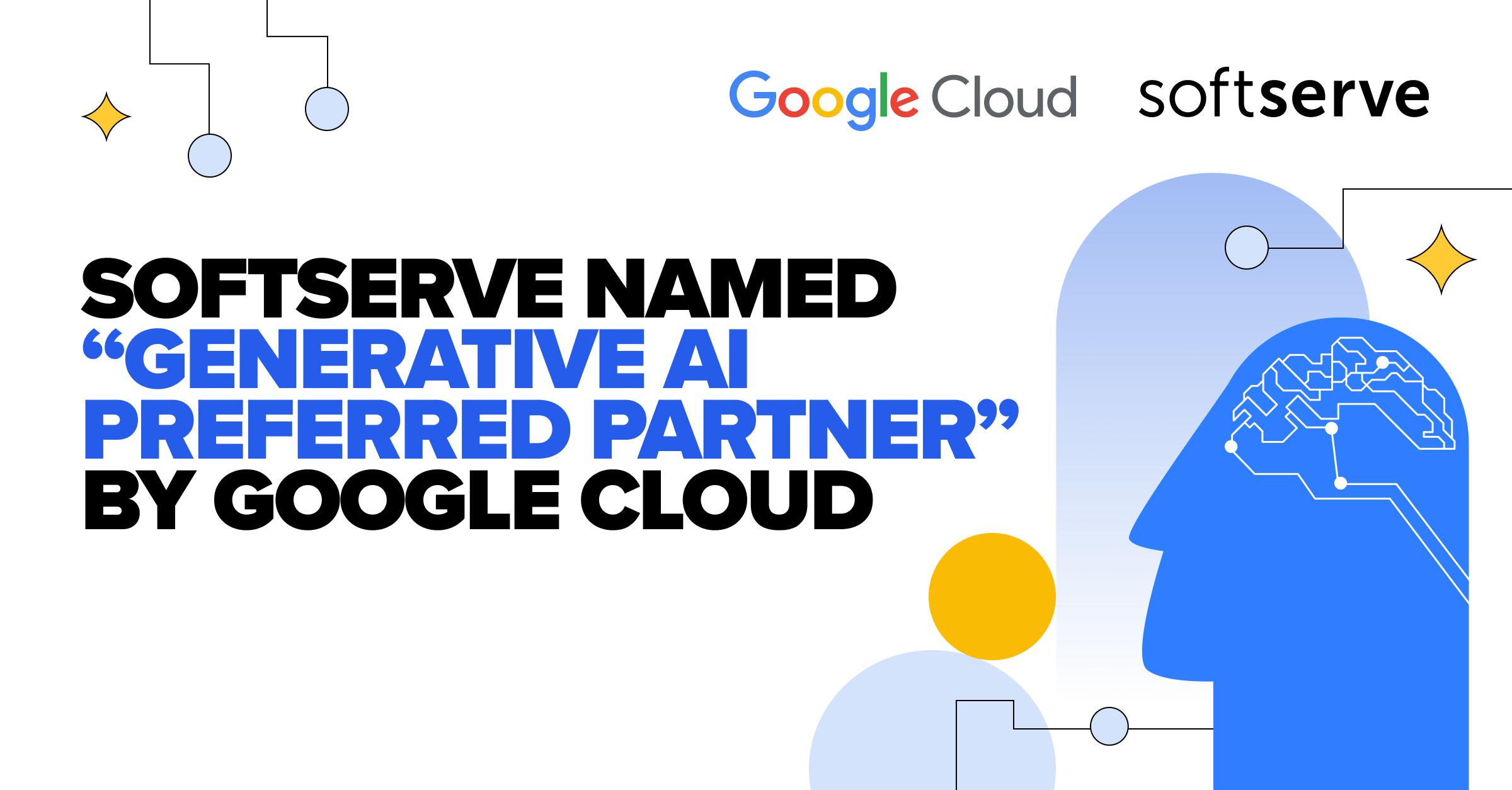 SoftServe's expanded partnership introduces new 'Google Cloud Generative AI Use Case Discovery Workshop' offering
AUSTIN, Texas (July 5, 2023) – SoftServe, an IT consulting company offering software development and digital services, today announced a partnership expansion into Generative AI (gen AI) with Google Cloud. The expanded partnership introduces the new Google Cloud Generative AI Use Case Discovery Workshop, a service offering from SoftServe that provides clients with the tools to pursue gen AI technology and increase their value proposition in the market.
Generative AI is revolutionizing businesses across all industries by providing an indispensable tool to automate tasks, reduce costs, boost efficiency, enhance customer experience, and accelerate innovation. Through this partnership, SoftServe's new Google Cloud Generative AI Use Case Discovery Workshop guides software companies and enterprises to unique business opportunities by identifying and assessing possible outcomes using gen AI technologies.
"Our expanded partnership with Google Cloud will add to our powerhouse of gen AI capabilities as more business leaders look to implement them into their daily operations," said Todd Lenox, SVP of Alliances & Partnerships at SoftServe. "With our multidisciplinary team, cross-industry solutions, and state of the art AI expertise, we're delighted to be expanding our partnership with Google Cloud. And we look forward to amplifying the possibilities for our clients and customers."
The workshop includes planning expectations, use cases, recommended target solutions, implementation scope and road map, as well as project proposal with assets and templates, priming organizations for an effective pursuit of gen AI technology today.
"With SoftServe's Generative AI Use Case Discovery Workshop, companies and enterprises will have the opportunity to realize the benefits of this technology," says Jim Anderson, Vice President, NA Partner Ecosystem & Channels at Google Cloud. "We're excited to expand our work with SoftServe to help clients implement gen AI."
This comprehensive assessment and hands-on approach to come from this expanded partnership serves as a solid foundation for reducing risk and accelerating time-to-market for gen AI applications. SoftServe's goal is to enable our clients to harness the power of gen AI on Google Cloud effectively and strategically, unlocking endless and unprecedented opportunities.
Clients can benefit from these new and expanded generative AI offerings as early as today. To learn more, please visit this webpage.
About SoftServe
SoftServe is a leading IT consulting company transforming and optimizing how enterprises and software companies do business. Our end-to-end approach assures innovation, quality, and speed across the healthcare, retail, energy, manufacturing, and financial services verticals.
Visit our website, blog, LinkedIn, Facebook, and Twitter pages.
SoftServe Media Contact
Kayla Cash
Global Public Relations Manager
kcash@softserveinc.com