SoftServe
partnering with

Google Cloud
As a Google Cloud Partner, and 2020 Google Cloud Specialization of the Year award winner for machine learning, SoftServe is committed to supporting the entire Google family of solutions. SoftServe has expertise in Infrastructure Modernizations, Smart Analytics, and Application Modernizations. We focus on leading edge solutions to future proof our customers.
Let's talk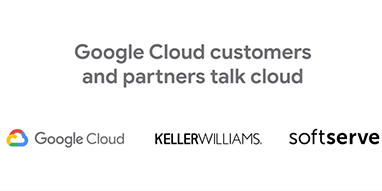 When Keller Williams migrated from AWS to Google Cloud, development times became 75% faster. The largest real estate franchise in the world by agent count, Keller Williams was drawn to the cloud in part because of a desire to push deeper into artificial intelligence (AI) and big data. Google Cloud Infrastructure Specialization Partner SoftServe managed the switch. In this video, Greg Matthews, VP of Engineering at Keller Williams, and Keith Rozmus, EVP of Client Success, North America-West, at SoftServe discuss the transition and its benefits.
At SoftServe, we help your business make the most out of google platform services
150+
Google Cloud Expert Projects
430+
Google Cloud Resources
10+
Anthos Expert Resources
Why Keller Williams migrated to Google Cloud

SoftServe Supply Chain and Logistics solutions powered by GCP
01

Cloud & DevOps

DevOps creates a collaborative environment between developers and IT for improved efficiency, reduced development lifecycles, and faster time to market.

02

Big Data & Analytics

03

Internet of Things

04

Extended reality (XR)

05

Innovation Platform

06

Anthos / Hybrid Environments

07

Google Cloud VMware Engine (GCVE)
Create Exceptional Experiences

Provide and optimize a consistent experience for new and existing customers across all touchpoints and channels​

Turn Data into Actionable Insights

Power machine learning, AI, and predictive analytics to generate business insights that drive smarter decisions for all stakeholders​

Accelerate Innovation

Deploy experience design specialists and state-of-the-art technologies to provide richer experiences while addressing technology gaps in processes

Futureproof your business

Define a roadmap to leverage cloud computing and other digital technologies to reduce operating costs and create new revenue streams
Expertise
We have experience in all of Google's Priority Workloads, Application Modernization, Infrastructure Modernization, Smart Analytics, Data Management, AI, Security, Productivity & Collaboration. Our main focus areas are in the following, with 30+ completed projects in each:
Infrastructure Modernization
Application Modernization
Smart Analytics
VALUE: Migrating virtual machines to the cloud with minimal downtime
TECHNOLOGIES: Green deployments, Terraform, Deployment Manager, Velostrata, CloudPhysics, StratoZone, Cloudamize, CloudEndure
CASE STUDIES: Sherri Hill, Tyson Foods, Keller Williams
Cases
Keller Williams

Keller Williams sought guidance around the added complexity of existing applications, the risk of extensive re-factoring, and a looming foray into the direct-to-consumer market.

Anker

SoftServe delivered a mobile application and the backend service that performs the actual Face Recognition that runs on GCP.

Shoptelligence

Shoptelligence's client's needed to see the ROI from its AI modules in order to retain these current clients and use that success to attract new ones.