SoftServe Joins VR/AR Association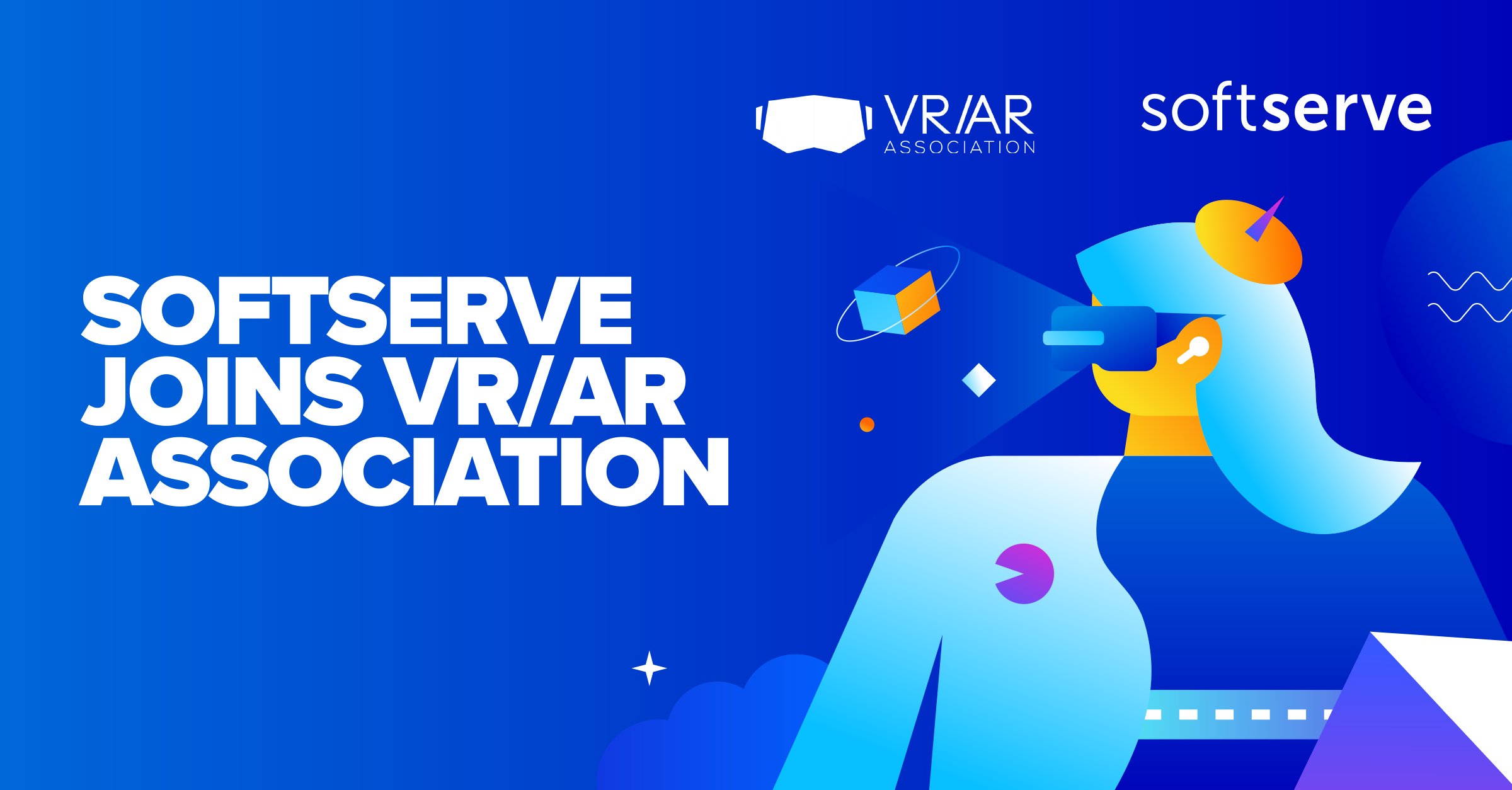 Company will expand outreach to member organizations, entrepreneurs, and professionals in virtual and augmented reality
AUSTIN, Texas—December 10, 2021—SoftServe, a leading digital authority and consulting company, has become a member of the VR/AR Association (VRARA). The VR/AR Association is an international industry organization for virtual and augmented reality designed to connect member organizations, encourage research and education, help develop industry best practices, and foster collaboration between solution providers and end-users. The VR/AR Association currently features over 4,000 member companies, brands, and schools, and over 30,000 industry professionals.
"SoftServe is excited to be a member of the VR/AR Association," said Rich Herrington, EVP of Client Success at SoftServe. "We are witnessing accelerated adoption of these technologies in all enterprise segments of our business and feel the Association will help foster ideation and collaboration. Through our partnership network of the leading cloud and platform companies SoftServe is focused on developing solutions that show rapid value and measurable benefits through dynamic user experiences tied to existing, complex, and disparate enterprise data sets."
SoftServe's R&D department, responsible for high-tech solutions and scientific research, is currently working on a new AR Remote Assistance solution powered by Magic Leap, Unity, and ServiceNow. It is an equipment service and maintenance solution that makes significant strides in training, technician support, problem diagnosis, maintenance, and asset management. With quick access to analytics, equipment history, and forecasting over the cloud, this unique integration is not just a training and consulting solution, but a working tool for field management and maintenance. It helps solve complex technical operations by connecting specialists and providing them with a unified view of the problem and a large set of tools to solve it.
The Remote Assistance solution creates AI models that monitor and predict when equipment will need maintenance. Using practical AR applications, field technicians can reference articles, videos, manuals, checklists, even collaborate hands-free with a remote expert. With back-end and data source integrations, it offers analytics for better issue diagnostics and maintenance decision-making. The solution provides aggregated data, analytics, and checklists needed to detect and resolve maintenance on the go.
About SoftServe
SoftServe is a digital authority that advises and provides at the cutting-edge of technology. We reveal, transform, accelerate, and optimize the way enterprises and software companies do business. With expertise across healthcare, retail, energy, financial services, and more, we implement end-to-end solutions to deliver the innovation, quality, and speed that our clients' users expect.
SoftServe delivers open innovation, from generating compelling new ideas, to developing and implementing transformational products and services. Our work and client experience is built on a foundation of empathetic, human-focused experience design that ensures continuity from concept to release.
We empower enterprises and software companies to (re)identify differentiation, accelerate solution development, and vigorously compete in today's digital economy. No matter where you are in your journey.
Visit our website, blog, LinkedIn, Facebook, and Twitter pages.
SoftServe Media Contact
Andrew Kavka
Analyst and Public Relations Lead
akavk@softserveinc.com