EN

SoftServe announces winners of "Journalism for the Future" contest in Chile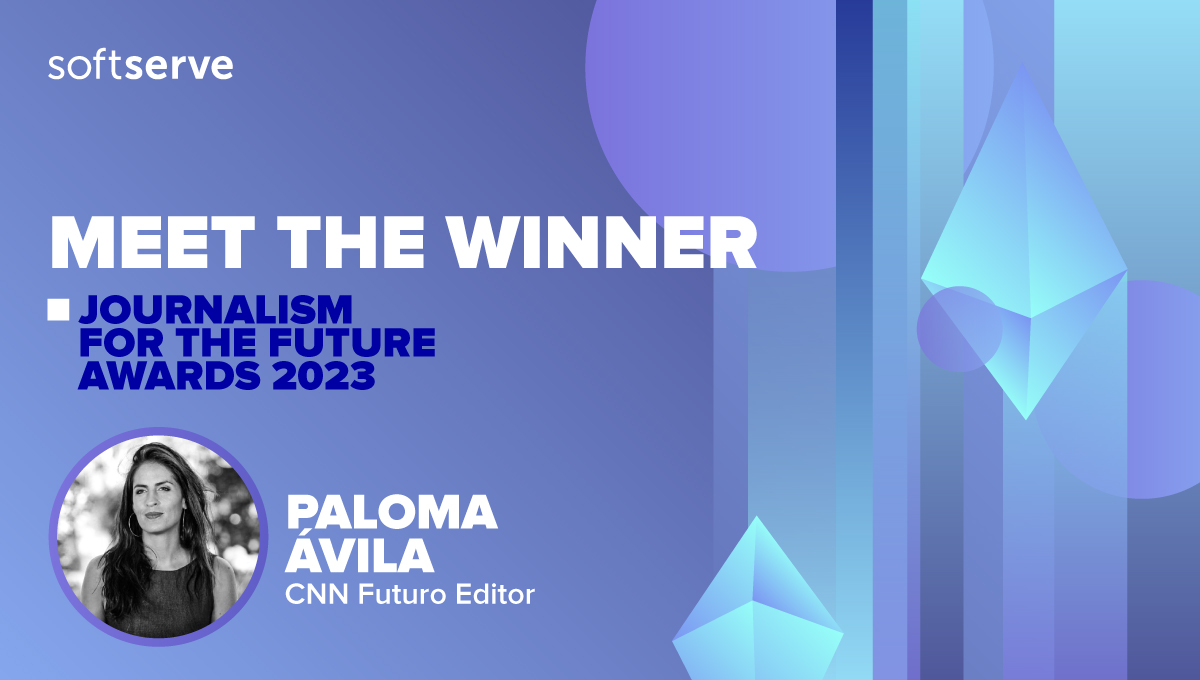 SANTIAGO, Chile (October 23, 2023) - Paloma Ávila, editor and host of CNN Futuro, was awarded in the first "Journalism for the Future" contest by SoftServe Chile, emphasizing the importance of journalism committed to quality and excellence.
One year after arrival in Chile, SoftServe announced the "Journalism for the Future" contest, an initiative aimed at recognizing and rewarding excellence in technology journalism. Over the course of two months, the company received more than 70 applications from all over Chile, including written articles, audiovisual pieces, and digital content, exploring the various ways in which technology impacts our society, from the environment and health to education and more. In this inaugural edition of the competition, Paloma Ávila claimed the prize, highlighting her dedication to narrating the history of the electrical system in Chile.
"Journalists have a very important role in democratizing information on complex topics like technology, making it more accessible to people and their understanding. This initiative by SoftServe is a great recognition for those who daily carry out the task of informing in the best possible way," – mentioned Paulina Concha, Director of the Innovation and Entrepreneurship Laboratory, Open Lab, University of Chile.
"This initiative aligns with SoftServe's mission to build a better future through technology and education. We believe that quality journalism is a fundamental pillar for building that future, as well-told stories have the power to inspire and educate, shaping the path towards a more informed and progressive world," – said Jaime Oviedo, Vice President & Country Manager of SoftServe Chile.
Barbarita Lara, CEO of EMERCOM and leader of the S!E project, who evaluated the works presented in this contest edition, highlighted the breadth of technology and its impact in various fields. "Technology is not limited to electronics; it encompasses many more areas. The works presented in the competition reflect how technology manifests in various forms and drives solutions, learning, and advancements in areas beyond the digital realm."
The winning report, broadcast on the Futuro 360 program on CNN Chile, explored the history of the energy system in Chile, illustrating the influence of technology on the country's development. This achievement underscores the importance of quality journalism and its role in understanding the technological changes shaping our society.
As for the other finalists, they were "The Disruptive Technologies that Various Actors in the National Creative Industry Believe In" by journalist Andrea Urrejola from El Mercurio, who received second place, and "Chileans Cultivate Glaciers in the Andes" by Daniel Silva, host of Planeta Futuro on Megamedia, who placed third.
About SoftServe
SoftServe is a premier IT consulting and digital services provider. We expand the horizon of new technologies to solve today's complex business challenges and achieve meaningful outcomes for our clients. Our boundless curiosity drives us to explore and reimagine the art of the possible. Clients confidently rely on SoftServe to architect and execute mature and innovative capabilities, such as digital engineering, data and analytics, cloud, and AI/ML.
Our global reputation is gained from more than 30 years of experience delivering superior digital solutions at exceptional speed by top-tier engineering talent to enterprise industries, including high tech, financial services, healthcare, life sciences, retail, energy, and manufacturing. Visit our website, blog, LinkedIn, Facebook, and X (Twitter) pages for more information..
SoftServe Media Contact
Pablo Munoz
Brand Lead Chile
pmuno@softserveinc.com