SoftServe Lands First Designation as a Major Contender in Asset and Wealth Management It Services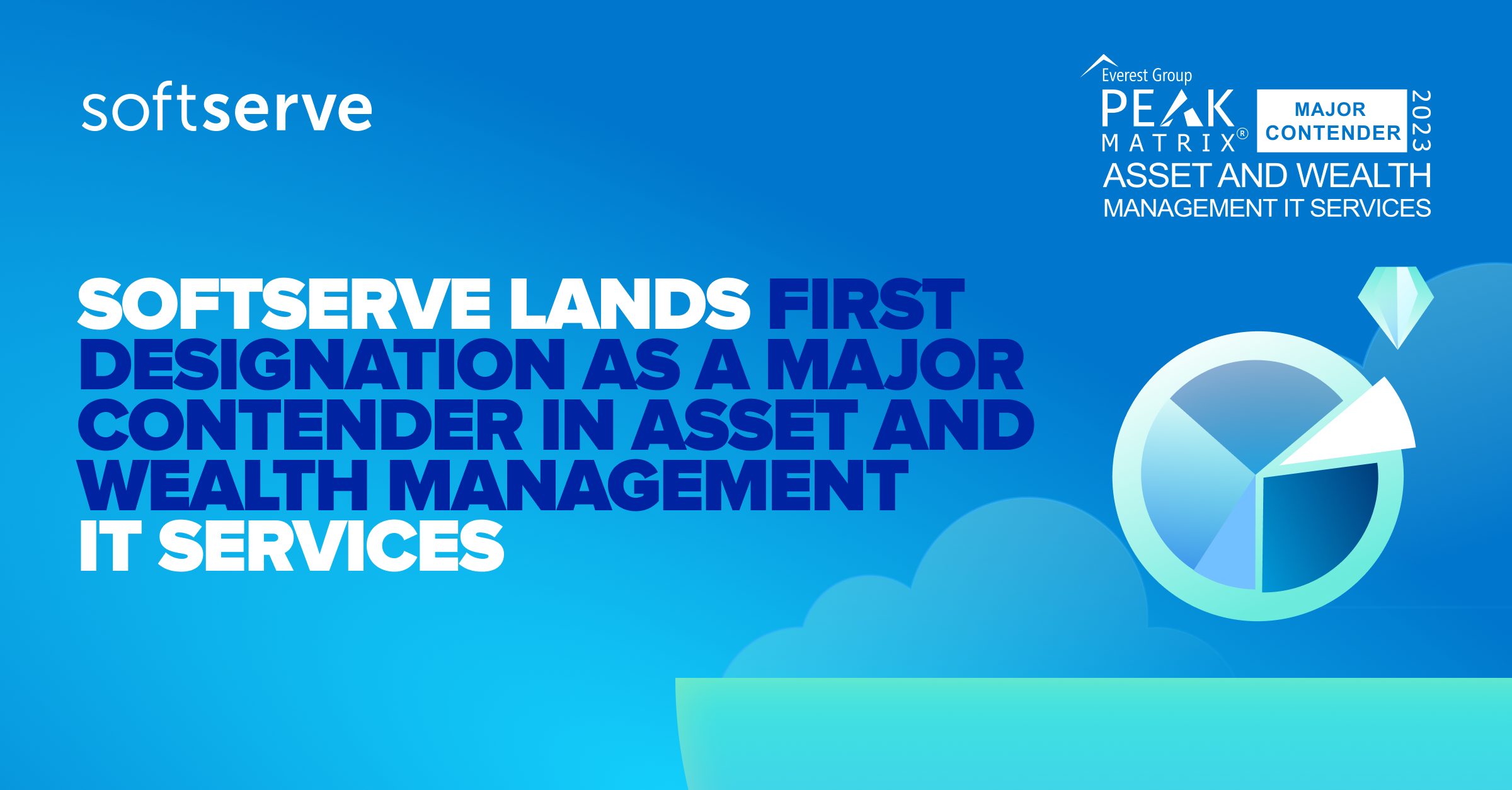 AUSTIN, Texas (Aug. 21, 2023) – SoftServe, an IT consulting company offering software development and digital services, today announced it has been named a Major Contender in Everest Group's Asset and Wealth Management IT Services PEAK Matrix® Assessment 2023.
SoftServe earned its Major Contender designation because of its mature service offerings for Asset and Wealth Management (AWM) enterprises, which is a prime achievement for its first inclusion in the AWM IT services assessment.
According to the report, the AWM IT services market is growing at a 5-7% rate due to demand for modernization initiatives, next-generation technology investments, and product innovations. The report analyzed the "market impact" and "vision & capability" of various IT service providers and categorizes each as Aspirants, Major Contenders, or Leaders. As a Major Contender, SoftServe's value delivered and scope of services offered received high ratings in each respective category.
The market analysis highlights SoftServe's innovative drive to differentiate its offerings – referencing the company's dedicated accelerators for quantum computing in capital markets capabilities – as a prominent assessment strength. Also noted was SoftServe's value as a strategic partner, prioritized investing in hiring, training, and retaining highly skilled professionals, and sense of client appreciation for honesty, collaboration, and delivery promise.
"Expert analysts calling out these specific strengths speak volumes for SoftServe's value proposition for clients in today's rapidly growing AWM market," said Rishi Chohan, SoftServe's EVP of Banking, Financial Services and Retail, CPG. "It indicates SoftServe is seen as a truly strategic partner to enterprises navigating their next move. This designation as a Major Contender puts us in an optimal position for market growth as we continue to enhance our offerings to better meet the needs of enterprise asset and wealth managers."
The full assessment evaluated 29 IT service providers by various parameters including service focus, key solutions, domain investments, practice growth, partnerships, client feedback, and case studies.
"Focused investments in hiring, training, and retaining highly skilled professionals with domain and technology expertise, as well as dedicated accelerators for quantum computing in capital markets, have helped SoftServe gain strong momentum in the Asset & Wealth Management IT services industry," said Aaditya Jain, Vice President, Everest Group. "Recognition by clients for bringing dedicated teams and wide coverage across domain coupled with strong delivery ethics has helped SoftServe to move up the value chain to become strategic partners with many clients and earn a Major Contender recognition on Everest Group's Asset and Wealth Management IT Services PEAK Matrix®️ Assessment 2023."
Find more details in an extract of Everest Group's PEAK Matrix Report here. To learn more about SoftServe's financial services expertise and offerings, visit this webpage.
About SoftServe
SoftServe is a premier IT consulting and digital services provider. Our boundless curiosity expands the horizon of new technologies to solve today's complex business challenges and achieve meaningful outcomes. We are solution architects. Clients confidently rely on SoftServe to execute mature and innovative capabilities, such as digital engineering, data and analytics, cloud, and AI/ML.
Our global reputation is gained from more than 30 years of experience delivering superior digital solutions at exceptional speed by top-tier engineering talent to industrial enterprises, including high tech, financial services, healthcare, life sciences, retail, energy, and manufacturing.
Visit our website, blog, LinkedIn, Facebook, and Twitter pages.
SoftServe Media Contact
Kayla Cash
Global Public Relations Manager
kcash@softserveinc.com